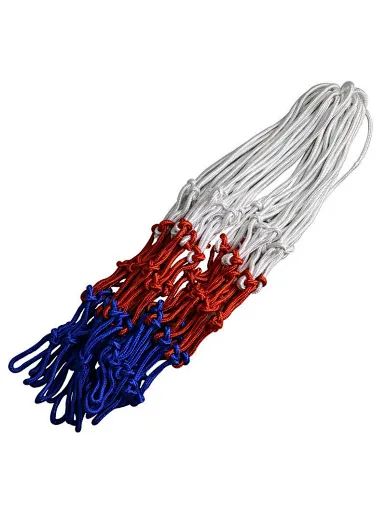 Basketball Net
Union Max Fitness specializes in sports training products including the highest quality Basketball Net. If you need this product, please feel free to contact us.
Description of Basketball Net
A basketball net is a woven structure that hangs from the top of a basketball hoop. It's usually made of a polyester/polypropylene material and has a series of small loops that hang from the rim and interlock to create a mesh net that catches the basketball as it passes through the rim. The net is designed to be durable enough to withstand the force of throwing or dunking a ball into the hoop. The basketball net is an essential part of the game and adds that extra excitement when you make a successful shot.
Product Features of Basketball Net
1. Woven with new polyester/polypropylene material, which is flexible, durable and highly elastic. 12 standard mesh buckles.
2. Thick mesh rope, thick material, smooth rope, beautiful and fashionable color, which will not fade for a long time. The red, white and blue basketball net improves backboard and rim visibility.
3. The basketball net can withstand the sun and rain, salt water and high temperature, not easy to break due to aging, and has a longer service life. Fits all standard size basketball hoops for indoor and outdoor use.
4. Using advanced cross weaving technology, one ring is connected to another, the interface is firm and does not fall off. The nodes are clear, strong, neat and beautiful.
Specifications of

 Basketball Net
| | |
| --- | --- |
| Product Name | Basketball Net |
| Origin | China |
| Certifications | ISO 9001 |
| Brand | Union Max |
| MOQ | 1000 pieces |
| Price | $0.99-3.71/piece |
| Packing | Carton |
| Material | Polyester/Polypropylene |
| Size | 3.5mm/5mm/7mm/12mm |
| Color | Red White/Red White Blue |
| Usage | Physical Training |