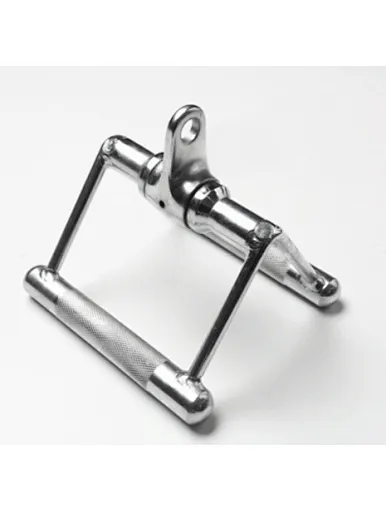 Cable Attachment - Double D Handle
Cable Attachment - Double D Handle-1
Union Max Fitness specializes in the manufacture of gym accessories products including the highest quality Double D Handle. If you need this product, please feel free to contact us.
Description of Double D Handle
The Double D Handle is about building stronger triceps with a variety of compound putting exercises that assist the muscles around the elbows, wrists, back, and shoulders. The cable Attachment is perfect for home and business use.
Double D Handle is made of high-quality steel, which is rust-proof, strong, and durable. The holding position is covered with rubber, which is non-slip and avoids slipping caused by sweating. The surface is smooth and bright, and the carefully selected materials make the product itself clean and can be used for a long time.
Product Features of Double D Handle
1. The structure is tight, the product itself has high hardness, pays attention to details, and is not easy to damage.
2. Careful selection of materials, starting from the material of the product, the surface of the product has a silvery white luster.
3. The central axis can be rotated 360 degrees.
4. High-strength high-quality solid material, not easy to drop.
Specifications of Double D Handle
| | |
| --- | --- |
| Product Name | Double D Handle |
| Origin | China |
| Certifications | ISO 9001 |
| MOQ | 10 piece |
| Brand | Union Max Fitness |
| Net weight | 3KG |
| Price | $13.6/piece |
| Color | Silver |
| Application | Exercise |
| Material | Stainless steel |
| Size(length*width*height) | 180*140mm |
| Custom Size & Logo & shape | Please contact us individually for customization |