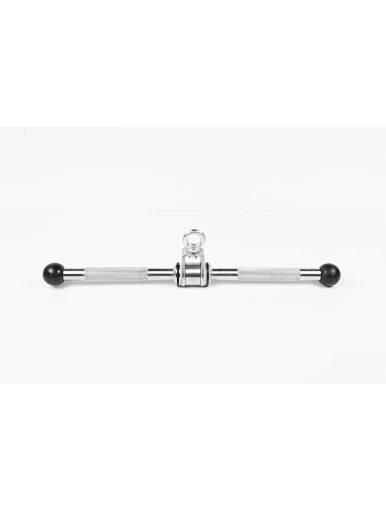 Cable Attachment-Revolving Straight Bar
Cable Attachment-Revolving Straight Bar-1
Union Max Fitness specializes in the manufacture of gym accessories products including the highest quality Revolving Straight Bar. If you need this product, please feel free to contact us.
Description of Revolving Straight Bar
Revolving Straight Bar is a metal straight bar and two swivel joints, 20 inches. The Revolving Straight Bar can rotate freely, so that the user's wrist will not be excessively twisted during fitness, thus ensuring safety and comfort. Users can hold the Revloving Straight Bar with both hands when doing low pull-downs, so as to give full play to the various muscle groups of the upper back, triceps and forearms, so as to achieve the effect of strengthening muscles and improving reaction speed.
Product Features of Revolving Straight Bar
1. There are two styles of anti-slip and rubberized to meet your needs for the grip.
2. It can be rotated and adjusted according to different actions.
3. The material of steel will not rust.
Specifications of Revolving Straight Bar
Product Name

Revolving Straight Bar

Origin

China

Certifications

ISO 9001

MOQ

10 piece

Brand

Union Max Fitness

Net weight

2.3/2.9KG

Price

$27.23/piece

Color

Silver

Application

Exercise

Material

Steel

Size

600*140mm

520*85mm

Custom Size & Logo & shape

Please contact us individually for customization