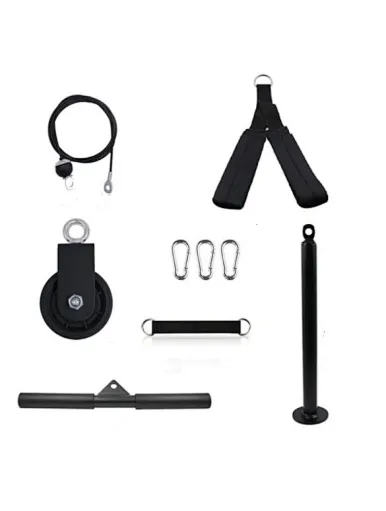 Cable Attachment Set - 002
Union Max Fitness specializes in the manufacture of gym accessories products including the highest quality Cable Attachment Set. If you need this product, please feel free to contact us.
Description of Cable Attachment Set
Cable Attachment is a set of multiple products, designed to provide users with diverse training effects. Cable Attachment Set includes different types and specifications of pull-down rods, tension straps, grippers and other accessories. Whether you want to build muscle strength, improve muscular toughness, increase endurance, improve explosive power, or train for sculpting and fat loss, the Cable Attachment Set has you covered. You can choose the appropriate combination of accessories according to your training goals and needs to achieve the best training effect. Not only that, this Cable Attachment Set also has the functions of adjustment, combination and expansion, allowing you to adjust and change according to your own progress and training plan to maintain the diversity and challenge of training. Whether you are a novice or a seasoned fitness enthusiast, a Cable Attachment Set is an indispensable tool for your comprehensive fitness training at home.
Product Features of Cable Attachment Set
1. Two 2MM*2M steel wire ropes, we provide substitutes, no longer worry about losing the wire ropes!
2. You can design your favorite stickers and product introductions.
Specifications of Cable Attachment Set
Product Name

Cable Attachment Set-002

Origin

China

Certifications

ISO 9001

MOQ

10 piece

Brand

Union Max Fitness

Net weight

1.8KG

Price

$12.59/piece

Package contents

Triceps strap*1

High-density cable*1

Steel carabiners*3

Straight bar*1

Load pin*1

Silent pulley*1

Strap*1

Application

Exercise

Material

Steel

Box size

40*11CM

Custom Size & Logo & shape

Please contact us individually for customization