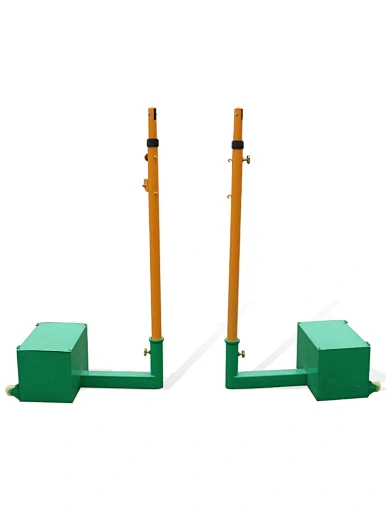 Counterweight Volleyball Column
Union Max Fitness specializes in sports training products including the highest quality Counterweight Volleyball Column. If you need this product, please feel free to contact us.
Description of

Counterweight Volleyball Column
A counterweight volleyball column is a special type of support structure used in volleyball courts. It is designed to provide stability and support to the volleyball net while allowing it to be easily adjusted to the desired height. The post usually consists of a strong metal pole that is firmly attached to the ground. On top of the rod, there is a system of pulleys with a counterweight mechanism. This weight system allows for effortless adjustment of the height of the volleyball net.
Product Features of

Counterweight Volleyball Column
1. The generous box body can be added with counterweight, and counterweights such as gravel and sand can be placed to ensure a more stable grid frame.
2. The joints of the columns are seamlessly welded, and the process of shot blasting, rust removal, electrostatic spraying and other processes ensures that the frame is beautiful, strong and anti-corrosion.
3. The structure of the metal wire tensioner, with the help of the worm gear transmission principle, can adjust the tightness of the feather net, and it will not loosen, which plays a role of safety protection.
4. The metal hook is seamlessly welded, and the fixed ends of the net are kept parallel.
5. There is a special buffer pad at the bottom of the outer and outer columns of the volleyball column, which acts as a buffer when matched with the base column cover, and can prolong the service life of the column.
6. The base is equipped with control wheels, which are easy to disassemble and install as needed.
Specifications of

 

Counterweight Volleyball Column
| | |
| --- | --- |
| Product Name | Counterweight Volleyball Column |
| Origin | China |
| Certifications | ISO 9001 |
| Brand | Union Max |
| MOQ | 10 pairs |
| Price | $175.40-412.70/pair |
| Packing | Carton |
| Material | Steel Pipe |
| Size | 1920-2550mm |
| Base Weight | 52kg/pair |
| Adjustment Device | Shake the Lifting Handle |
| Mesh Size | 9500mm |
| Usage | Physical Training |