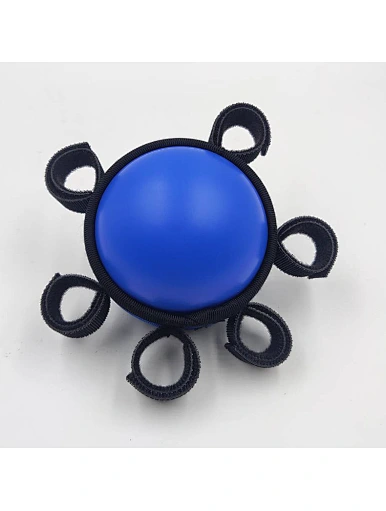 Five Finger Grip Ball
Union Max Fitness specializes in home workout products including the highest quality Five Finger Grip Ball. If you need this product, please feel free to contact us.
Description of Five Finger Grip Ball
Introducing the Five Finger Grip Ball, the perfect tool for enhancing finger strength and improving grip. This compact and versatile training device is made with high-quality elastic PU material, ensuring durability and flexibility for long-lasting use.With a diameter of approximately 7cm, the Five Finger Grip Ball fits comfortably in your hand, allowing for convenient and effective finger and hand exercises. Its vibrant blue color adds a touch of vibrancy to your workout routine.
Product Feature of

Five Finger Grip Ball
1.Moderate Strength: This grip ball offers the optimal level of resistance for strengthening your fingers and hands. It provides enough challenge to improve your grip strength without being too difficult for beginners.
2. Good Flexibility: The elastic PU material used in the construction of the grip ball ensures excellent flexibility. This allows for a wide range of motion during exercises, enabling you to improve finger dexterity and flexibility effectively.
3. Convenient Grasp: The ergonomic design of the Five Finger Grip Ball ensures a comfortable and secure hold. Its textured surface provides a non-slip grip, allowing you to focus on your finger strength training without worrying about the ball slipping from your hands.
Suitable for a wide range of users, the Five Finger Grip Ball is particularly beneficial for office workers and individuals who spend long hours using a computer mouse. The constant bending of the wrist and fingers during these activities can lead to long-term compression and restricted blood flow, resulting in stiff wrist muscles and nerves.
Additionally, the Five Finger Grip Ball is an excellent choice for both the elderly and teenagers alike. Its ergonomic design accommodates hands of all sizes, making it suitable for individuals with larger or smaller hands.
Improve your finger strength, enhance grip, and relieve wrist tension with our Five Finger Grip Ball. Incorporate it into your exercise routine for noticeable improvements in hand and finger dexterity. Get yours today and feel the difference!
Specifications of Five Finger Grip Ball
| | |
| --- | --- |
| Product Name | Five Finger Grip Ball |
| Origin | China |
| Brand | Union Max |
| Certifications | ISO 9001 |
| Material | PU |
| MOQ | 2pcs |
| Price | $1.71/Piece |
| Size | 7cm |
| Grip | 20lbs |
| Packing | Carton |
| Color | Blue |
| Usage | Finger Exercise |
| Application | Home, Gym, Outdoors |