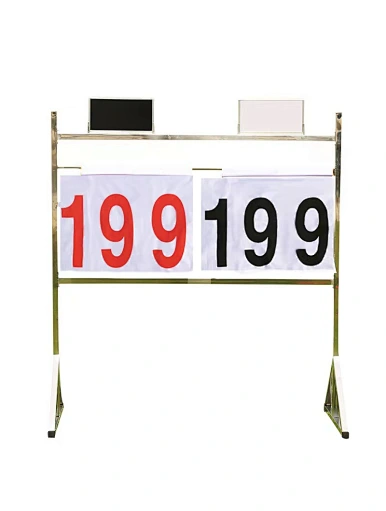 Floor-Standing Score Board
Floor-Standing Score Board-1
Union Max Fitness specializes in sports training products including the highest quality Floor-Standing Score Board. If you need this product, please feel free to contact us.
Description of Floor-Standing Score Board
Floor-standing score boards are large display boards mounted on stands used to track scores and other important game information during sporting events. It is usually designed to be visible from a distance and provides a clear and easy-to-read display of scores and key information. The board can be operated manually and includes buttons or controls for adjusting scores, and other settings. Scoreboards are used in various sports such as basketball, soccer, baseball, and hockey. Its purpose is to provide players and spectators with accurate and up-to-date information, ensuring a fair and competitive game. Floor-standing scoreboards are commonly found in large arenas, stadiums, and stadiums. They are an essential part of any professional or amateur sporting event, providing vital logistical support to match officials, coaches and athletes.
Product Features of Floor-Standing Score Board
1. Made of stainless steel, the triangular support bottom column is made of good material and has good corrosion resistance.
2. The bottom has a guide wheel design, 360° smooth double-row design, and the contact surface is made of high-quality nylon that is not easy to break.
3. Large-size digital design, PVC material, waterproof and corrosion-resistant, font height about 42*53cm.
4. It can be written on two sides of the blackboard design, the blackboard area is large, not only considering the appearance, but also more comfortable to use.
5. Detachable bracket design, stable chassis, more convenient storage, more fashionable and beautiful overall.
Specifications of

 Floor-Standing Score Board
| | |
| --- | --- |
| Product Name | Floor-Standing Score Board |
| Origin | China |
| Certifications | ISO 9001 |
| Brand | Union Max |
| MOQ | 10 pieces |
| Price | $24.35-28.98/piece |
| Packing | Carton |
| Material | Stainless Steel/PVC |
| Size | 104*110*45cm |
| Number Plate Size | 40*40cm |
| Usage | Physical Training |