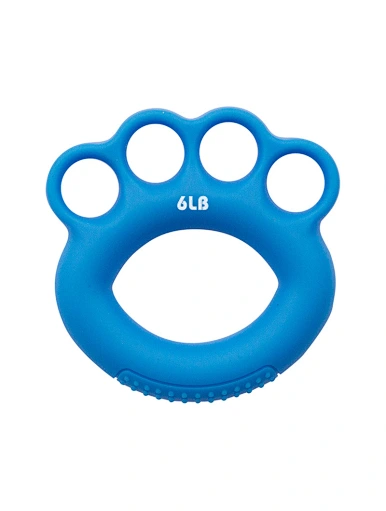 Four Finger Grip Ring
Union Max Fitness specializes in home workout products including the highest quality Four Finger Grip Ring. If you need this product, please feel free to contact us.
Description of

 

Four Finger Grip Ring
Introducing our Four Finger Grip Ring, a specially designed training tool to enhance grip strength and finger pointing abilities. Made of high-quality silicone material, this grip ring offers a comfortable and ergonomic hold, making it ideal for rehabilitation training. Its compact and portable design ensures that you can conveniently carry it wherever you go.
Product Feature of

 

Four Finger Grip Ring
1.The Four Finger Grip Ring features a unique four-finger buckle, allowing for targeted hand rehabilitation training. We highly recommend using different strength combinations for stage rehabilitation, as it can further maximize the effectiveness of your training sessions.
2.This product is suitable for individuals in need of hand rehabilitation training, as well as for elderly individuals with insufficient grip strength, inflexible fingers, and issues with holding objects securely.
3.The grip ring is crafted from solid silicone material, providing excellent elasticity, toughness, and durability. With various strength options available, including 6 lbs, 10 lbs, and 20 lbs, you can choose the appropriate level of resistance based on your recovery stage.
4.The 10-pound grip ring offers a soft texture, making it ideal for early-stage recovery. The 20-pound option provides a soft touch, which is suitable for mid-term recovery. Lastly, the 30-pound ring offers a moderate hardness, perfect for individuals in their mid-recovery phase.
5.Invest in your hand rehabilitation journey with our Four Finger Grip Ring, and experience the benefits of improved grip strength and finger dexterity.
Specifications of Four Finger Grip Ring
| | |
| --- | --- |
| Product Name | Four Finger Grip Ring |
| Origin | China |
| Brand | Union Max |
| Certifications | ISO 9001 |
| Material | Silica Gel |
| MOQ | 2pcs |
| Price | $1.75/Piece |
| Size | 10*9.8cm |
| Packing | Carton |
| Color | Blue |
| Grip | 6lbs, 10lbs, and 20lbs |
| Usage | Finger Exercise |
| Application | Home, Gym, Outdoors |