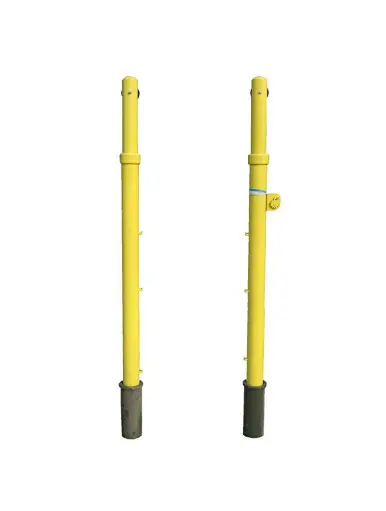 In-ground Volleyball Post
In-ground Volleyball Post-1
Union Max Fitness specializes in sports training products including the highest quality In-ground Volleyball Post. If you need this product, please feel free to contact us.
Description of In-ground Volleyball Post
An in-ground volleyball post is a durable structure designed for safely setting up volleyball nets outdoors. It is usually made of galvanized steel to withstand severe weather and provide long-lasting support. Posts are installed in the ground, usually with anchors for stability. It is usually buried to a certain depth to ensure it remains stable during gameplay. The exact method of installation may vary depending on factors such as soil composition and local regulations. In-ground volleyballpost often also feature adjustable height. This allows players to raise or lower the net to the appropriate height for different age groups, skill levels or game changes.
Product Features of In-ground Volleyball Post
1. Good steel is bright in color, elegant in appearance, without burrs, and has a smooth surface.
2. The threaded screw lifting mechanism can move the inner column up and down by shaking the lifting handle, so as to realize the height adjustment of the net, which is convenient and quick.
3. The steel structure has a large bearing capacity and works smoothly; at the same time, it has a self-locking function for safety protection.
4. High-temperature electrostatic spraying, anti-wind and sun, no paint peeling, durable.
5. Simple installation, save time and effort, and improve efficiency.
Specifications of In-ground Volleyball Post
| | |
| --- | --- |
| Product Name | In-ground Volleyball Poat |
| Origin | China |
| Certifications | ISO 9001 |
| Brand | Union Max |
| MOQ | 10 pairs |
| Price | $175.40-412.70/pair |
| Packing | Carton |
| Material | Steel Pipe |
| Size | 1920-2550mm |
| Adjustment Device | Shake the Lifting Handle |
| Mesh Size | 9500mm |
| Usage | Physical Training |