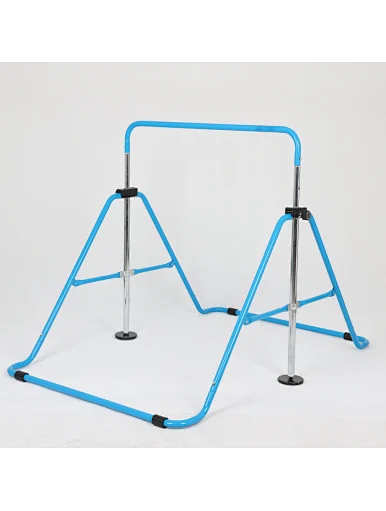 Kids Folding Gymnastics Bars
Kids Folding Gymnastics Bars-1
Union Max Fitness specializes in home workout products including the highest quality Kids Folding Gymnastics Bars. If you need this product, please feel free to contact us.
Description of

 Kids Folding Gymnastics Bars
Our Kids Folding Gymnastics Bars can function as a horizontal bar, gymnastics bar, junior training bar, and training monkey bars. This versatile piece of home gym equipment will help improve children's balance and flexibility.
Product Feature of

 Kids Folding Gymnastics Bars
Introducing our Kids Folding Gymnastics Bars! Measuring 146x107x(88-129) cm when fully expanded and only 18x107 cm when folded, it is easy to store and won't take up much space at home.
This gymnastics bar has a load capacity of 75kg, thanks to its high-quality steel thickness of 25*1.2-1.4mm.
The height is adjustable in 4 levels (88, 102, 115, and 129cm) to meet the needs of children at different ages.
The horizontal bar is a great gift for birthdays, Halloween, Thanksgiving, Christmas, or any special occasion. Children will take a great interest in this gymnastics training stick and will develop a strong body over time.
Additionally, the easy-to-fold feature makes it not only convenient to store but also portable, so children can train wherever they please.
In summary, our Kids Folding Gymnastics Bars provide a variety of benefits, such as improving balance ability, increasing flexibility, and promoting physical health. With its multi-functional design, easy-to-fold feature, and super-high load-bearing capacity, it is an ideal home gym equipment choice for parents who want their children to develop healthy habits while having fun.
Specifications of Kids Folding Gymnastics Bars
| | |
| --- | --- |
| Product Name | Kids Folding Gymnastics Bars |
| Origin | China |
| Brand | Union Max |
| Certifications | ISO 9001 |
| Material | Steel |
| MOQ | 2pcs |
| Price | $30.95/Piece |
| Size | 146*107*(88-129) cm |
| Weight Capacity | 75kg |
| Packing | Carton |
| Color | Blue |
| Usage | Hand Exercise |
| Application | Home, Gym, Outdoors |