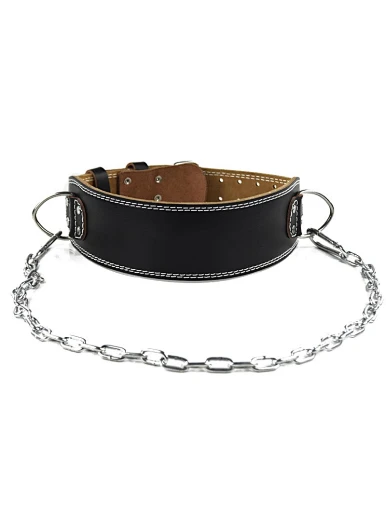 Leather Weight Belt With Steel Chain
Leather Weight Belt With Steel Chain-1
Union Max Fitness specializes in the manufacture of Sport Protection products including the highest quality Leather Weight Belt With Steel Chain. If you need this product, please feel free to contact us.
Product Description of Leather Weight Belt
A leather Weight Belt is a kind of fitness equipment that combines cowhide material and weight training function. The choice of cowhide material makes this belt have excellent durability and comfort, allowing users to enjoy the best experience during long-term use.
The role of this Leather Weight Belt is mainly to increase the load during exercise. The extra weight makes the muscle groups more challenged, thereby promoting muscle growth and strength improvement.
At the same time, the Leather Weight Belt also helps to improve the stability of the posture and reduce the risk of injury caused by incorrect posture during exercise.
Whether it's strength training or cardio, the Leather Weight Belt can be your right-hand man. Its adjustment system accommodates different body shapes and heights, ensuring the right fit and comfort.
Whether you are a novice or a professional bodybuilder, the Leather Weight Belt can provide you with the best support and help to take your training to the next level.
In addition to being used in the gym, the Leather Weight Belt can also be of great use in outdoor activities.
Whether you're climbing mountains, hiking, or walking long distances, weight training can improve your strength and stamina, helping you better handle any challenge.
Overall, the Leather Weight Belt is not just a piece of equipment, but a tool that brings all-round support and protection to fitness enthusiasts. Its high-quality materials, weight training functions and versatility make it a shining star in the fitness industry, bringing users a variety of training methods and ultimate fitness results.
Feathered of Leather Weight Belt
Stainless steel rivets are fixed, firm, and durable
New design, the belt and weight are combined into one
Multiple rows of holes for easy waist adjustment
Thicken the railway to adjust the load-bearing effect
Specification of Leather Weight Belt
| | |
| --- | --- |
| Product Name | Leather Weight Belt |
| Material | Leather, steel |
| Size | One size fit |
| Color | Black/tan |
| Packing | Opp bag/Carton/Customized packing |
| Logo | Customized logo |
| Brand Name | Union Max Fitness |
| Protection class | Basic Protection |
| Applicable People | Adult |
| Usage | Daily Life + Sports |