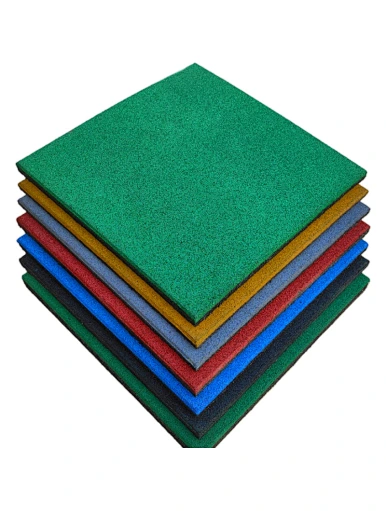 Outdoor Rubber Non-Slip Flooring Mat
Union Max Fitness specialize in Rubber Mat including Outdoor Rubber Non-Slip Flooring Mat of the highest quality. If you require this product, please do not hesitate to reach out to us.
Description of 

Outdoor Rubber Non-Slip Flooring Mat
EPDM Outdoor Rubber Non-Slip Flooring Mat is an emerging polymer synthetic material, which is widely used in various sports venues, such as tennis courts, basketball courts,
and
volleyball courts, as well as children's playgrounds, kindergartens, communities
,
and other areas that require color painting.
Product Feature of Outdoor Rubber Non-Slip Flooring Mat
1. Composite process, wear-resistant high-density particle shrinkage, shock absorption and noise reduction, fitness at home will not disturb the downstairs neighbors.
2. Strong toughness, high density, no slag, dirt resistance, easy to clean.
3. The surface is easy to clean, just wipe it with a towel.
4. Shock absorption, pressure resistance, and sound insulation, high-density rubber particles can effectively disperse the impact force and protect the floor.
5. Sufficient stocking, fast delivery, large-scale factory production, and quality with craftsman spirit.
6. Upgrade the shock-absorbing bottom, with good elasticity, and pay more. attention to the foot feels while shock-absorbing and evenly protecting the knee joint, giving you a more intimate feeling.
7. Our non-slip rubber mats are ideal for protecting indoor and outdoor floors. You can use them in gyms, basements, children's playgrounds, and game rooms.
8. We support customization, you are welcome to inquire about customization.
Specifications of Outdoor Rubber Non-Slip Flooring Mat
| | |
| --- | --- |
| Product Name | Outdoor Rubber Non-Slip Flooring Mat |
| Origin | China |
| Certifications | ISO 9001 |
| Material | SBR Rubber, EPDM Granule |
| MOQ | 200 square meters |
| Price | $22.3-33.8/square meters |
| Size | 50*50cm, 100*100cm |
| Thickness | 15/20/25/30/40/50mm |
| Color | Black, red, green, yellow, blue, etc. |
| Packing | Pallet Packaging |
| Logo | Custom |
| Application | Home, Gym, Outdoors |