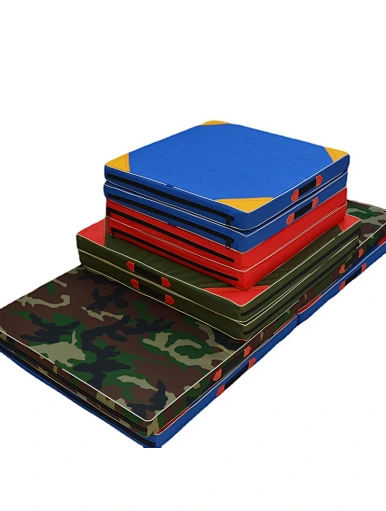 Oxford Gymnastics Mat
Union Max Fitness specialize in Gymnastics Mat including Oxford Gymnastics Mat of the highest quality. If you require this product, please do not hesitate to reach out to us.
Description of Oxford

 Gymnastics Mat
Gymnastics mats are floor mats that provide shock absorption for gymnastics, cheerleading, martial arts, wrestling, and other high-impact sports, can make you feel softer and more comfortable during exercise and prevent injuries.
Product Feature of

Oxford

 Gymnastics Mat
1. The outer material is made of oxford cloth, with a thickened pearl cotton inner tank design, with a portable handle, easy to lift after folding, easy to carry, and easy to store.
2. Precision sewing thread, neat and fine, even stitches, beautiful and strong.
3. A variety of colors for your choice: pink, rose red, red, orange, yellow, green, purple, blue, army green, camouflage green, etc.
4. There are various specifications, including straight type, two-fold type, three-fold type and four-fold type, and the regular thickness is 5cm and 10cm. The length, width, thickness and color can also be customized according to your needs.
5. W
oven bag packaging, if you have other requirements for packaging, please contact us for customization.
6. Sold as a single piece, the minimum order quantity is
200
 pieces.
Specifications of

Oxford

 Gymnastics Mat
100*50*5cm, 100*50*10cm, 120*60*5cm, 120*60*10cm, 180*60*5cm, 180*60*5cm, 200*100*5cm, 200*100*10cm,

200*120*5cm, 200*120*10cm,

100*50*5cm, 100*50*10cm, 120*60*5cm, 120*60*10cm, 180*60*5cm, 180*60*5cm, 200*100*5cm, 200*100*10cm,

200*120*5cm, 200*120*10cm,

180*60*5cm, 180*60*5cm, 200*100*5cm, 200*100*10cm,

200*120*5cm, 200*120*10cm,

240*120*5cm, 240*120*10cm, ect

Green, Blue, Red, Rose Red, Pink, Orange, Yellow, Purple, Army Green, Camouflage, ect