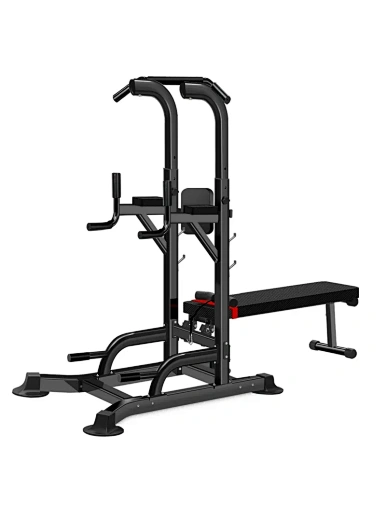 Power Tower Dip Station With Bench
Power Tower Dip Station With Bench-1
Union Max Fitness is a supplier of Power Tower Dip Station With Bench. If you are interested, please contact us for further information.
Description of Power Tower Dip Station With Bench
The Power Tower is a robust and dependable gym equipment that prioritizes safety and durability. Its non-slip rubberized feet guarantee stability and minimize the chances of accidents during intense workouts. Additional protective foam ensures comfort and reduces the risk of injuries. The high density foam grips enhance grip strength and contribute to an improved exercise experience. Constructed with heavy duty steel, this Power Tower is built to endure long-term and rigorous use. It fulfills all the necessary requirements for a safe and effective workout routine.
Product Features of Power Tower Dip Station With Bench
1. Material: The Power Tower is made of heavy-duty steel, ensuring exceptional strength and durability.
2. User-friendly: It is designed to be easy to use, allowing individuals of all fitness levels to engage in effective workouts.
3. Convenient storage and mobility: The Power Tower can be easily stored when not in use and is adjustable, making it suitable for various spaces. It also has the ability to be moved around effortlessly.
4. Multifunctional: The Power Tower enables you to perform a variety of exercises, including chin-ups, pull-ups, and sit-ups. By incorporating these exercises into your routine, you can improve muscle strength and engage in workouts that were previously challenging. Ultimately, it contributes to overall health.
Specifications of Power Tower Dip Station With Bench
| | |
| --- | --- |
| Product Name | Power Tower Dip Station With Bench |
| Origin | China |
| Certifications | ISO 9001 |
| Brand | Union Max |
| MOQ | 1 Piece |
| Price | $53-60/piece |
| Packing | Cartons |
| Material | Pu, Foam, High-Grade Steel |
| Size | 239*90*165-235 cm |
| Color | Customized Color |
| N.W | 30kg |
| G.W | 33kg |
| Applicable | Home, Office, Gym |
| Usage | Fitness |