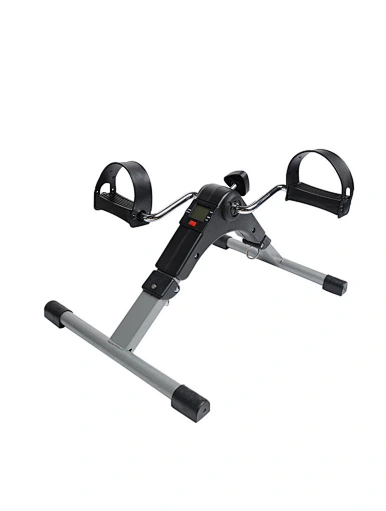 Folding Pedal Exerciser
Folding Pedal Exerciser-1
Union Max Fitness offers Folding Pedal Exerciser products. If you are interested, please contact me for further details.
Description of Folding Pedal Exerciser
The mini exercise bike has 6 highlights, including its sturdy structure, non-slip and wear-resistant pedals, eco-friendly materials, intelligent display screen, foldable design, and synchronized training for both upper and lower limbs. It is a multi-purpose fitness machine that can meet the needs of different individuals, such as shaping and slimming the legs, toning and lifting the buttocks, as well as rehabilitation training.
Product Features of Folding Pedal Exerciser
1.LED digital display: easy-to-read numbers, non-glare, 3*2.5cm high-definition large screen, with oversized subtitles, making it easy for seniors with poor eyesight to read clearly without worrying about unclear numbers.
2.Solid rubber pedals: equipped with exclusive foot straps to easily and effectively secure feet to the pedals without falling off. The solid pedal is delicate in texture, slip-resistant, and durable.
3. Easily foldable: can be folded and stored quickly, taking up minimal space in your home without causing clutter.
4. Eco-friendly materials: designed with the environment in mind, this mini exercise bike features environmentally friendly materials that are safe to use.
5.Synchronized training for arms and legs: this exercise bike can train both the upper and lower limbs at the same time, making your exercising more efficient.
Specifications of Folding Pedal Exerciser
| | |
| --- | --- |
| Product name | Folding Pedal Exerciser |
| Material | Rubber,Steel |
| N.W | 2.33kg |
| G.W | 2.83kg |
| Length | 36cm |
| Width | 48cm |
| Height | 23.3cm |
| Adjustment method | Rotating resistance button |
| Rotating resistance button | Ring ring quickly folded |
| Display | LCD display |