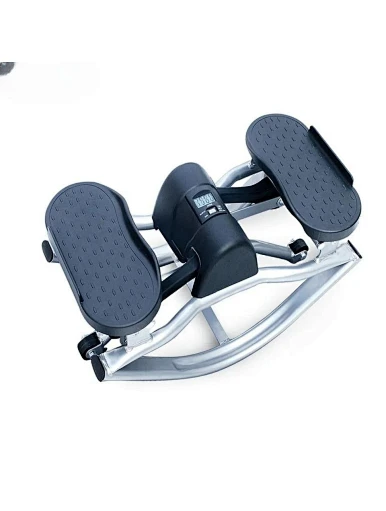 U-Shape Stepper
Union Max Fitness is a factory specializing in the production of U-Shape Steppers. If you have any needs, please feel free to contact us for further assistance.
Description of U-Shape Stepper
The Balance Roll stepper is an excellent workout machine that targets your leg and glute muscles while providing a cardiovascular workout for your heart and lungs. To maximize your workout, aim for a smooth rhythm using medium size steps if you're a beginner. Those who are already physically fit can increase the size of their stepping. Maintaining an upright posture and using your hands for balance while holding the machine will promote proper technique. Don't forget to warm up and stretch before starting your exercise routine. Most modern machines come with a computer display and a selection of programs to choose from. If you're a beginner, aim to exercise for 6-12 minutes on an easy level.After completing your workout, take a few minutes to stretch your calf and quadriceps muscles.
Product Features of U-Shape Stepper
1. LCD computer that displays a scan, the time, the count, and the number of calories burned
2. Compact and easy-to-store workout exercise stepper
3. A unique side-to-side rocking motion
4. Provides a low-impact workout
5. Targets calves, thighs, buttocks, and hips
 6. Sculpt strong muscle; in your core and lower body and burn extra calories
7. Great for cardio and increased muscle tone in buttocks and thighs
Specifications of U-Shape Stepper
| | |
| --- | --- |
| Product Name | U-Shape Stepper |
| Origin | China |
| Certifications | ISO 9001 |
| Brand | Union Max |
| MOQ | 1 Piece |
| Price | $15-25/piece |
| Packing | Cartons |
| Material | Steel, Plastic |
| Carton Size | 52*29*28cm |
| Color | Customed |
| N.W | 5.6KG |
| G.W | 6.9KG |
| Applicable | Home, Office, Gym |
| Usage | Fitness |