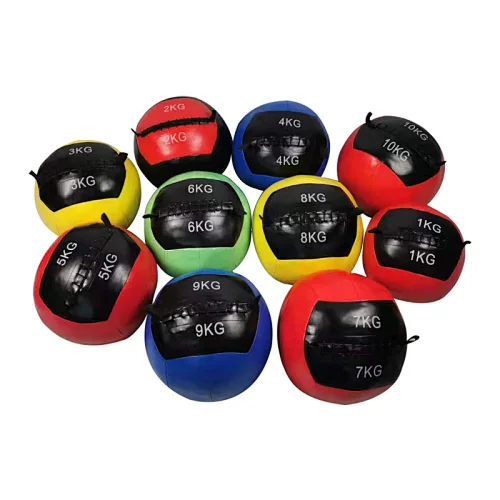 1-15KG Professional Exercises Wall Ball Workout
Union Max Fitness manufactures core exercise products including the highest quality Wall Ball. If you need this product, please feel free to contact us.
Description of Wall Ball
Wall ball, also known as a soft medicine ball, is a very popular fitness equipment now. Our squash is made of high-quality PU fabric, with two sizes of 30/35cm and 15 different weights of 1-15kg. Whether you are a fitness novice or a fitness expert, you can choose the size that suits you!
Product Feature of Wall Ball
1. Selected thickened PU fabric, high-strength sewing thread, durable and long service life.
2. The interior is filled with silk cotton, cloth strips, and counterweight sand, among which ore sand and iron sand are filled according to the weight of the product.
3. Weight 1KG-15KG multiple specifications. 1KG and 2KG are usually small medicine balls with a diameter of about 30cm, and above 3KG are usually large medicine balls with a diameter of about 35cm.
4. This fitness equipment helps strengthen the lower body, not to mention it develops and strengthens the arms and shoulders, it also helps in endurance, agility, muscle strengthening, and functional training.
5. It's easy to store and use no matter what kind of workout you do.
6. The spherical surface can be customized with a simple logo.
7. This is an essential piece of fitness equipment in your gym, functional studio, physiotherapy, and physical rehabilitation, and is also very versatile for home training.
Specifications of Wall Ball
| | |
| --- | --- |
| Product Name | Wall Ball |
| Origin | China |
| Brand | Union Max |
| Certifications | ISO 9001 |
| MOQ | 2pcs |
| Color | Black |
| Price | $6.2-17/piece |
| Packing | Cartons or Woven Bag |
| Material | PU |
| Diameter | 30-35cm |
| Weight | 1/2/3/4/5/6/7/8/9/10/11/12/13/14/15kg |
| Usage | Muscular Training |
| Logo | Custom |
| Application | Gym or Home |