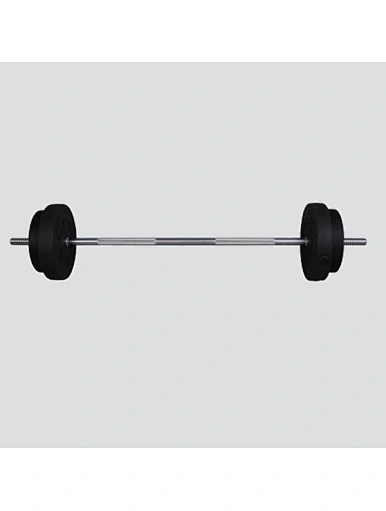 1.2 m Straight Electroplated Barbell Bar
Union Max Fitness specialize in barbell bars including 1.2 m Straight Electroplated Barbell Bar of the highest quality. If you require this product, please do not hesitate to reach out to us.
Description of

 1.2 m Straight Electroplated Barbell Bar
This is a must-have piece of free training gym equipment for anyone serious about weight training. This barbell can be used for training alone or with a barbell plate to increase the difficulty of training and improve fitness efficiency.
Product Features of

 1.2 m Straight Electroplated Barbell Bar
1. The length of this barbell is 1.2m, the diameter of the grip bar is 25mm, and it can carry a standard size barbell plate with a diameter of 25mm.
2. This product is made of high-quality steel, with a galvanized layer on the surface, each with a net weight of 4.7kg and a maximum load-bearing capacity of 70kg, which is very strong and durable.
3. This product adopts surface electroplating process, high-quality chrome plating process, beautiful appearance, easy to clean every day.
4. The handle has a precision knurling process, which has a better anti-slip effect and protects the safety of the user.
5. Sold individually or in pieces.
6. Paper tube and wooden box packaging, packaging needs to be charged separately, you can consult us about the packaging fee at any time.
Specifications of

 1.2 m Straight Electroplated Barbell Bar
| | |
| --- | --- |
| Product Name | 1.2 m Straight Electroplated Barbell Bar |
| Origin | China |
| Certifications | ISO 9001 |
| MOQ | 100 pieces |
| Price | $18.95-28.45/piece |
| Packing | Paper Tube and Wooden Box |
| Usage | For Fitness Activities |
| Application | Gym and your home |
| Type | Straight Bar |
| Material | Q235 Steel |
| Finish | Electroplated |
| Size | 1.2m |
| Diameter | 25mm |
| N.W. | 4.7kg |
| Weight Capacity | 70kg |
| Color | Silver |
| Sales model | Sold individually or in pieces |