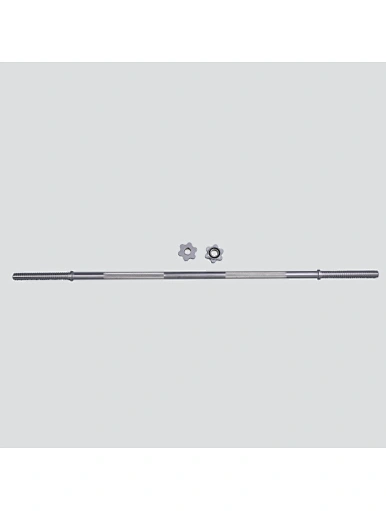 1.8 m Straight Electroplated Barbell Bar
Union Max Fitness specialize in barbell bars including 1.8 m Straight Electroplated Barbell Bar of the highest quality. If you require this product, please do not hesitate to reach out to us.
Description of

 1.8 m Straight Electroplated Barbell Bar
As we all know, strength training equipment is designed to maximize muscle gain. Designed to fit a 1"(25mm) bore weight plate, these bars are perfect for beginners or pros who just want to increase their strength and fitness.
Product Features of

 1.8 m Straight Electroplated Barbell Bar
1. The length of this barbell bar is 1.8m, the diameter of the grip bar is 25mm, and it can carry a standard size barbell plate with a diameter of 25mm.
2. This product is made of high-quality steel, with an electroplating layer on the surface, each with a net weight of 6.7kg and a maximum load-bearing capacity of 90kg, which is very sturdy and durable.
3. This product features a solid chromed steel rod with threaded ends that can be used with nuts to hold the weight plate in place.
4. This barbell comes with a knurled non-slip handle, which is non-slip and comfortable to hold to protect the user's safety.
5. Sold individually or in pieces.
6. Paper tube and wooden box packaging, packaging needs to be charged separately, you can consult us about the packaging fee at any time.
Specifications of

 1.8 m Straight Electroplated Barbell Bar
| | |
| --- | --- |
| Product Name | 1.8 m Straight Electroplated Barbell Bar |
| Origin | China |
| Certifications | ISO 9001 |
| MOQ | 100 pieces |
| Price | $30.95-46.45/piece |
| Packing | Paper Tube and Wooden Box |
| Usage | For Fitness Activities |
| Application | Gym and your home |
| Type | Straight Bar |
| Material | Q235 Steel |
| Finish | Electroplated |
| Size | 1.8m |
| Diameter | 25mm |
| N.W. | 6.7kg |
| Weight Capacity | 90kg |
| Color | Silver |
| Sales model | Sold individually or in pieces |