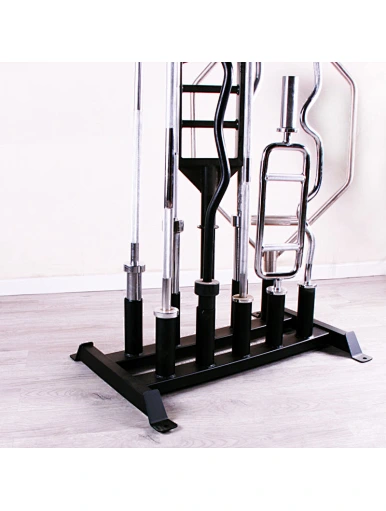 10 Rods Bar Storage Rack
Union Max Fitness specialize in storage rack products, including 10 Rods Bar Storage Rack of the highest quality. If you require this product, please do not hesitate to reach out to us.
Description of

 Metal 10 Rods Bar Storage Rack
This bar storage rack can hold 10 bars (fits 2"or smaller) in a vertical space position without taking up space other than a wall or shelf. These steel tubes are positioned and designed to hold these bars above the storage rack while avoiding any collisions.
Product Features of

 Metal 10 Rods Bar Storage Rack
1. This compact bar storage rack measures 90x63x25cm and is made of 60x80mm steel tubing to provide strength and stability to the bar and a secure base for 1 to 10 bars per use.
2. Made of high quality steel material for high strength and stability, black matte finish for durability.
3. This product adopts electrostatic spraying technology for long service life and small footprint to save space.
4. There are expansion screws on the four feet of this barbell storage rack, which can be nailed to the ground to improve stability, or you can directly place the barbell without nailing it on the ground.
5. You can buy it individually or as a set with our barbell or Olympic bar.
6. Carton packaging is provided free of charge, and wooden box packaging requires a certain packaging fee.
Specifications of

 Metal 10 Rods Bar Storage Rack
| | |
| --- | --- |
| Product Name | Metal 10 Rods Bar Storage Rack |
| Origin | China |
| Certifications | ISO 9001 |
| MOQ | 30 pieces |
| Price | $67.55-80.75/piece |
| Packing | Carton or wooden box |
| Usage | Storage Olympic Barbell Bar or Barbell Bars |
| Application | Gym and your home |
| Material | Steel |
| N.W | 16.5kg |
| Weight Capacity | 200kg |
| Size | 90cmL x 63cmW x 25cmH |
| Thickness | 1.2mm |
| Color | Black |
| Finish | Matte |