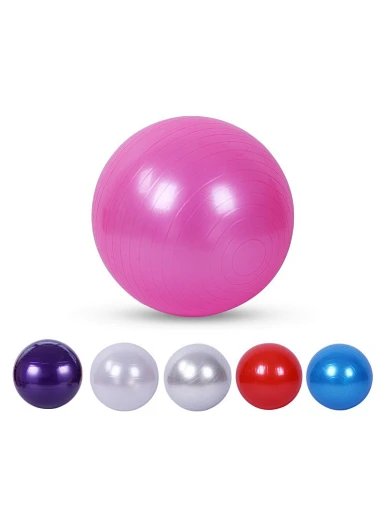 45-95CM Pilates Yoga Ball
Union Max Fitness specializes in the manufacture of Yoga and Pilates products including the highest quality 45-95CM Pilates Yoga Ball. If you need this product, please feel free to contact us.
Description of Pilates Yoga Ball
Pilates Yoga Ball exercise has a lot of fun. Pilates Yoga Ball exercise has changed the traditional training method, allowing athletes to play with the ball accompanied by warm and unrestrained music. Players sometimes sit on the ball and sometimes lift the ball to do jumping exercises. These interesting actions make the whole process extremely entertaining. Pilates Yoga Ball exercise helps to train the body's balance ability. The Pilates Yoga Ball exercise has a massage effect. When the human body is in contact with it, the inflated yoga ball inside will evenly stroke the contact parts of the human body to produce a massage effect, which is beneficial to promote blood circulation.
How much air does a yoga ball need?
Generally speaking, it is enough to fill the yoga ball to 80%, so that the yoga ball is elastic, which is convenient for us to do yoga movements of clamping and grasping. In fact, inflating a fitness ball is the same method as inflating a basketball or a bicycle tire. Use special inflatable equipment to inflate according to the size of the ball. If the air is too full, the yoga ball will become very hard, which is not conducive to the practice and maintenance of the yoga ball. Therefore, you can release part of the air to adjust the hardness of the ball. This is mainly adjusted according to the practice needs and habits of the practitioner.
Specifications of Pilates Yoga Ball
Product Name

Pilates Yoga Ball

Origin

China

Certifications

ISO 9001

MOQ

20 piece

Customized MOQ

1000 piece/color

Brand

Union Max Fitness

Accessories

Air pump, air plug, air pull

Net weight

45CM=350g

55CM=600g

65CM=800g

75CM=900g

85CM=1000g

95CM=1200g

Load bearing

200kg

Price

$2.04~3.3/piece

Color

Purple, White, Silver, Red, Pink, Blue, Green

Application

Indoor and outdoor exercise

Material

PVC

Usage

Yoga exercise and Pilates

Size(Diameter)

45CM,55CM,65CM,75CM,85CM,95CM

Packing Gauge

72*48*31CM

Custom Size & Logo & shape

Please contact us individually for customization