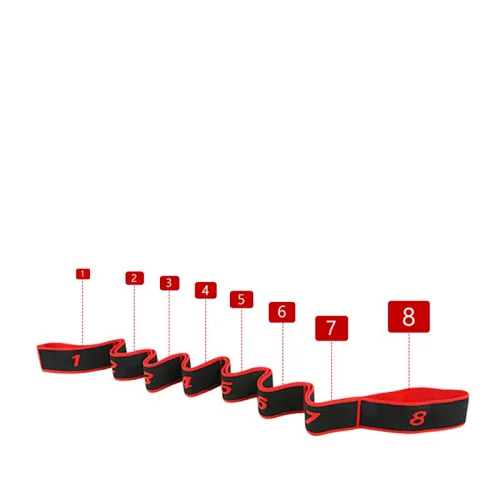 8-Segment Digital Elastic Stretch Strap
8-Segment Digital Elastic Stretch Strap-1
Union Max Fitness manufactures yoga exercise products including the highest quality8-Segment Digital Elastic Stretch Strap. If you need this product, please feel free to contact us.
Description of 8-Segment Digital Elastic Stretch Strap
It sounds like a stretching and muscle-strengthening tool for fitness enthusiasts who need to train at home or in the gym. Numerical design and segmented design help users more accurately understand training progress and progress toward goals. Double-layer composite webbing and three-dimensional seam design can enhance safety and durability, allowing users to use the tool for a long time. Please ensure the safety of the exercise area before use, and choose the correct training intensity according to your personal ability and health status.
There are adult and children's models. The size of the children's model is 80*4CM, and the size of the adult model is 90*4CM.
Specifications of 8-Segment Digital Elastic Stretch Strap
| | |
| --- | --- |
| Product Name | 8-SegmentDigitalElasticStretchStrap |
| Origin | China |
| Certifications | ISO 9001 |
| MOQ | 1 piece |
| Brand | Union Max Fitness |
| Price | $0.86-2.27/piece |
| Color | Purple, blue, orange, green, red, gray |
| Net weight | 80/90g |
| Application | Indoor and outdoor exercise |
| Material | Polyester cotton |
| Usage | Yoga exercise |
| Size(length*width) | 80/90*4CM |
| Custom Size & Logo & shape | Please contact us individually for customization |