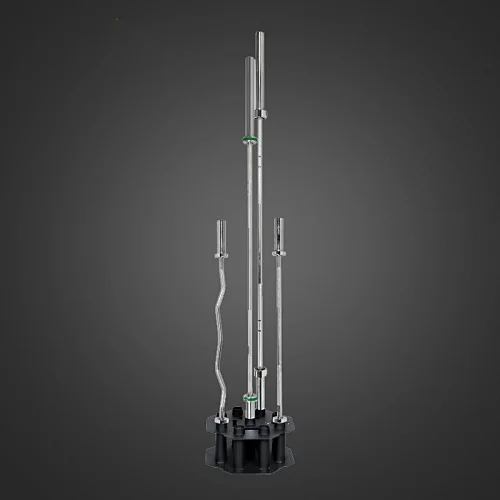 9 Olympic Bar Holder 50 mm
Union Max Fitness specialize in storage rack products, including 9 Olympic Bar Holder 50 mm of the highest quality. If you require this product, please do not hesitate to reach out to us.
Description of

 9 Olympic Bar Holder 50mm
With a footprint of just 45cm x 45cm, this 9-bar can improve space utilization in any training area, be it a home fitness corner, garage gym or large commercial gym. The upright storage design keeps your bar out of harm's way and provides easy access, and the octagonal design provides stability.
Product Features of

 9 Olympic Bar Holder 50mm
1. The size of this vertical bar storage rack is 45cmL x 45cmW x 20cmH, each storage hole is 57mm in diameter, and can store 9 standard size barbell bars.
2. This product is made of high-quality steel and adopts a confidential welding process. The overall structure is simple and practical, and it can provide enough strength and stability for the barbell.
3. This barbell bar storage rack has a nine-hole design, a reasonable storage location, and super load-bearing capacity, which can better protect the user's barbell bar.
4. This barbell storage rack adopts an octagonal structure design for more stability, a more reasonable center of gravity arrangement, and a more textured matte surface.
5. You can buy it individually or as a set with our barbell or Olympic bar.
6. Carton packaging is provided free of charge, and wooden box packaging requires a certain packaging fee.
Specifications of

 9 Olympic Bar Holder 50mm
| | |
| --- | --- |
| Product Name | 9 Olympic Bar Holder 50mm |
| Origin | China |
| Certifications | ISO 9001 |
| MOQ | 50 pieces |
| Price | $65.95-70.75/piece |
| Packing | Carton or wooden box |
| Usage | Storage Olympic Barbell Bar or Barbell Bars |
| Application | Gym and your home |
| Material | Steel |
| Size | 45cmL x 45cmW x 20cmH |
| Color | Black |
| Finish | Matte |