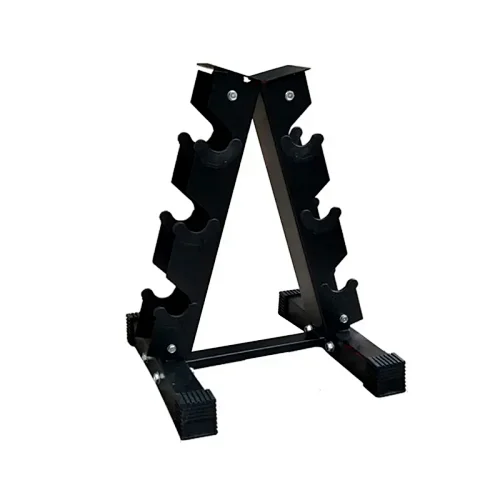 A Frame Dumbbell Rack
Union Max Fitness has been exporting A Frame Dumbbell Racks for over 10 years. Our racks are made of high-quality materials and are built to last. They are also easy to assemble and disassemble, making them perfect for home gyms or commercial use. With our A Frame Dumbbell Racks, you can keep your dumbbells organized and easily accessible, so you can focus on your workout.
Description of A Frame Dumbbell Rack
This A-frame dumbbell rack is a space-saving way to store your free weights. It can hold up to 3 or 6 pairs of standard-size dumbbells, and it's small enough to fit in any corner or space.
Product Features of A Frame Dumbbell Rack
1.This dumbbell rack is made of iron for heavy-duty stability.
It is made of 1.2mm iron pipe and 1.8mm iron plate.

It can meet your storage needs.
2.It has a black powder-coated finish for a sleek and corrosion-resistant appearance.
3.Each dumbbell rack is equipped with inserts to prevent scratching the dumbbell handles.
4.You can buy single racks or dumbbell sets.
5.Carton packaging is provided free of charge.
6.Wooden box packaging requires a certain packaging fee.
Specifications of A Frame Dumbbell Rack
Product Name

A Frame Dumbbell Rack

Origin

China

Certifications

ISO 9001

MOQ

30 pieces

Price

3 Tier A dumbbell rack: $18.55-28.45/piece

6 Tier A dumbbell rack: $20.55-32.45/piece

Packing

Carton or wooden box

Usage

Storage dumbbells

Application

Gym and your home

Material

Iron
Type

3 Tier A dumbbell rack

6 Tier A dumbbell rack

Size

54cmL x 41cmW x 58cmH

54cmL x 41cmW x 104cmH

N.W

6.6kg

9kg

G.W

7.6kg

10kg

Thickness

1.2mm iron pipe and 1.8mm iron plate

Color

Black

Finish

Matte