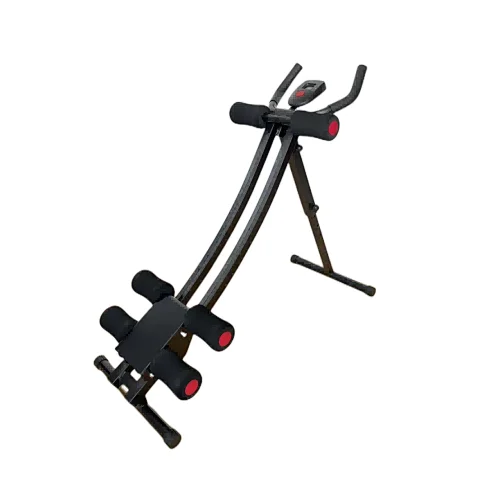 AB Coaster Machine
If you're in need of a high-quality AB Coaster Machine, then look no further than Union Max Fitness. As a supplier of these machines, we are dedicated to providing our customers with top-notch products that will help them achieve their fitness goals. Contact us today to learn more about our offerings and how we can assist you.
Description of AB Coaster Machine
The main system of the AB Coaster is completely designed with the natural posture of the human body, and the chest, shoulders, waist, abdomen, buttocks, legs, and other parts can achieve the effect of movement by natural swinging, especially for elbows, waist, abdomen, and other parts. For shoulder and neck relaxation and muscle training, you can get good results with easy and natural swinging, and the product occupies a small area and is easy to store.
Product Features of AB Coaster Machine
1. Thicken the curved rail parallel bar slideway to increase the effective sliding distance; lengthen the bottom tube and anti-slip foot cover to increase the force-bearing area.
2. Enlarge the meter head, with no radiation and no eye damage, you can keep track of fitness data at any time, short pressing the button to switch modes, and long pressing the counter to reset and clear.
3. Enlarged foam, soft footrest foam, can make the knees and hands get a good cushion; streamlined armrests, soft foam wrap, comfortable grip.
4. It can be adjusted in multiple gears, and the effect is better, and it is suitable for different intensity training.
5. It is easy to fold and store, and it can be placed in any corner.
Specifications of AB Coaster Machine
| | |
| --- | --- |
| Product Name | AB Coaster Machine |
| Origin | China |
| Certifications | ISO 9001 |
| Brand | Union Max |
| MOQ | 300 pieces |
| Packing | Cartons |
| Material | Steel Pipe |
| Color | Black and Red |
| Tube Thickness | 1.1mm |
| Load Bearing | 150kg |
| N.W | 8.5kg |
| Size | 86*40*91cm |
| Applicable | Home, Office, Gym |