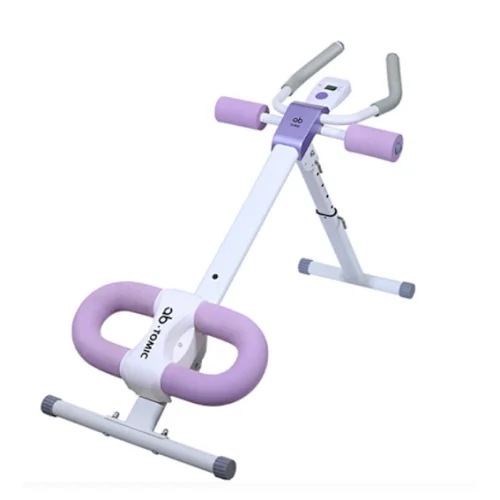 Abdominal Crunch Coaster
Abdominal Crunch Coaster-1
If you are searching for a supplier of Abdominal Crunch Coasters, look no further. We are a factory specialized in the production of these fitness machines. Please don't hesitate to contact us for further information or to place an order.
Description of Abdominal Crunch Coaster
Abdominal crunch coaster can relax the muscles, increase the toughness of the abdomen, legs, and waist, massage the back, burn fat, and exercise muscles to achieve the effect of body beauty is an indispensable commodity in your life. It is easy to fold and store, and it can be placed in any corner.
Product Features of Abdominal Crunch Coaster
1. Noiseless roller combination, fixed up and down, stable and not easy to slip; high-definition LED electronic watch, real-time data display.
2. Triangular structure design, high-strength load-bearing, multiple force points, stable structure, safe load-bearing 150kg.
3. U-shaped kneeling pad design, better protection of knees, thickened and widened high-elastic foam, ergonomic design, comfortable fit on the knees, effectively reducing the bearing capacity of the knees.
4. It can be adjusted to a moderate height according to its own height and height, which can adapt to different groups of people; scientific slope design, and reasonable weight loss strength.
5. Lengthen and widen the steel pipe, the sliding is more stable and safe.
6. Foldable, easy to store, easy to store without occupying space.
Specifications of Abdominal Crunch Coaster
| | |
| --- | --- |
| Product Name | Abdominal Crunch Coaster |
| Origin | China |
| Certifications | ISO 9001 |
| Brand | Union Max |
| MOQ | 200 pieces |
| Packing | Cartons |
| Material | Steel Pipe |
| Color | Purple and Pink |
| Tube Thickness | 1.2mm |
| Load Bearing | 150kg |
| Size | 110*75*35cm |
| Applicable | Home, Office, Gym |