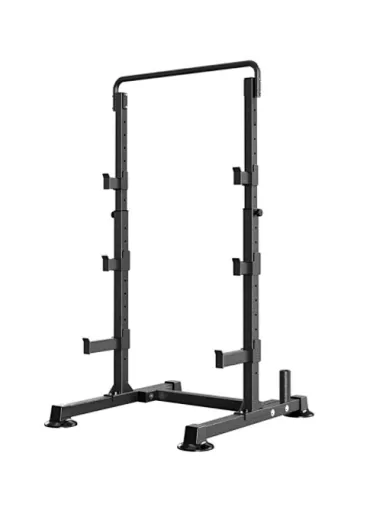 Adjustable Barbell Squat Rack
If you are looking for an adjustable squat rack, reach out to Union Max Fitness. Our experienced team can provide you with the products you need. We are happy to help!
Description of Adjustable Barbell Squat Rack
Adjustable Barbell Squat Rack is an excellent choice for improving leg strength, which is essential for overall body strength and has the greatest potential for powerlifting, weightlifting, and throwing. This rack is perfect for any home gym training and can be used by people of all levels. With its adjustable design, it can help you to target and strengthen various muscle groups for maximum results.
Product Features of Adjustable Barbell Squat Rack
1. Upgrade, widen and thicken square tube steel, real material, shape strength training, high-strength load-bearing, safe and stable.
2. With storage design, you can store barbell plates, and exercise equipment is not messy, safe, and tidy.
3. Elastic latch for quick height adjustment.
4. The base is H-shaped, which increases the contact area, and the 10cm large foot cover is stable and does not roll over to protect your safety.
5. Barbell bracket, without tools, can be adjusted to any height, suitable for bench press and squat training needs of different heights.
6.  Adjustable Barbell Squat Rack, home use
Specifications of Adjustable Barbell Squat Rack
Product Name

Adjustable Barbell Squat Rack

Origin

China

Certifications

ISO 9001

Brand

Union Max

MOQ

200 pieces

Price

$79.62-92.95/piece

Packing

Cartons

Material

Carbon Steel

Tube

T

hickness

1.2mm

Color

Black

L

oad

B

earing

500kg

Size

125*100*168-235cm

Applicable

Home, Office, Gym