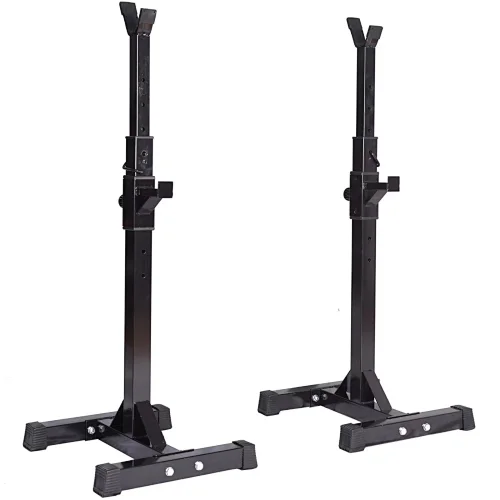 Adjustable Bold Split Squat Rack
Adjustable Bold Split Squat Rack-1
Union Max Fitness is a factory that specializes in the production of the Adjustable Bold Split Squat Rack. If you're interested in our products, feel free to contact us. We pride ourselves on our commitment to quality and our dedication to customer satisfaction. Let us help you achieve your fitness goals with our top-of-the-line equipment.
Description of Adjustable Bold Split Squat Rack
The barbell squat is mainly to exercise the muscles of the legs and buttocks, and the accompanying muscles include the waist and abdomen. Bodybuilders who have done this exercise will all have the same feeling, that is, when doing barbell squats, almost the whole body needs to be exerted, and the muscles of the whole body will be practiced. It can be said that the barbell squat is the boss of fitness movements. In this way, I have to say that this squat rack can meet these actions. The split type does not occupy a lot of space and can be moved at will, which is convenient and fast.
Product Features of Adjustable Bold Split Squat Rack
1. High-quality baking paint technology, exquisite workmanship, no paint peeling, and no rust can be grasped by the hand.
2. High-quality thickened square steel pipe, high-strength load-bearing, stable and safe, to ensure safe support during use.
3. Equipped with a height adjustment nut, and multi-speed adjustment, no need to use other tools, it can be adjusted by hand, which is convenient and efficient.
4. Imported plastic rubber sleeves are used to prevent scratches, reduce noise, and be more stable and safer; the four bases are protected by rubber sleeves, allowing you to exercise without hurting the floor.
5. Adjustable steel pipe, the whole product can be adjusted about 70cm. There are errors in manual measurement, and the actual product shall prevail.
Specifications of Adjustable Bold Split Squat Rack
| | |
| --- | --- |
| Product Name | Adjustable Bold Split Squat Rack |
| Origin | China |
| Certifications | ISO 9001 |
| Brand | Union Max |
| MOQ | 5 pieces |
| Packing | Cartons |
| Material | Steel Pipe |
| Steel Pipe Width | 5cm |
| Color | Black |
| Load Bearing | 300kg |
| Size | 50*49cm |
| Applicable | Home, Office, Gym |