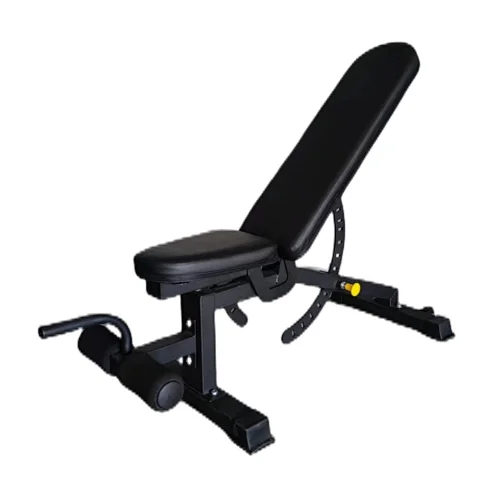 Adjustable Dumbbell Bench
Adjustable Dumbbell Bench-1
Union Max Fitness is a professional factory that manufactures Adjustable Dumbbell Benches. If you require any of our products, please feel free to contact us for further details and to place an order.
Description of Adjustable Dumbbell Bench
A dumbbell bench is a helpful tool in completing necessary fitness movements that can toning different muscle groups such as abdominal, back, hips, and core, resulting in improved coordination. This commercial-grade dumbbell bench has a sleek ergonomic design and is constructed with high-quality, thickened steel pipes that offer strength, stability, and safety. It is an excellent choice for fitness enthusiasts looking for a reliable and safe workout experience.
Product Features of Adjustable Dumbbell Bench
1.Thickened and thickened pipes, high-strength load-bearing, strong stability, safety and no shaking.
2.Strictly select high-quality leather, soft, wear-resistant, comfortable and breathable, allowing you to exercise freely.
3.Thickened hook foot foam, comfortable, breathable and high resilience, cushioning foot pressure, thickened design is more comfortable.
4.Bold arc adjustment, pull the latch to adjust the gear position, the seat cushion and backrest can be adjusted from multiple angles, unlock more functions, and can be used by the whole family.
5.Anti-slip rubber sleeve, scientific anti-slip texture, safe and non-slip movement; upgraded base, roller design, more convenient to move.
6.The dumbbell bench supports incline and incline; it is flat 180° and vertical 90°; it can be used for various trainings to meet the whole body muscle exercise.
Specifications of Adjustable Dumbbell Bench
| | |
| --- | --- |
| Product Name | Adjustable Dumbbell Bench |
| Origin | China |
| Certifications | ISO 9001 |
| Brand | Union Max |
| MOQ | 10 pieces |
| Price | $68.57-72.39/piece |
| Packing | Cartons |
| Material | Steel Pipe |
| TubeThickness | 1.8mm |
| Color | Black and Red |
| LoadBearing | 200kg |
| Size | 50*70*48-132cm |
| Applicable | Home, Office, Gym |