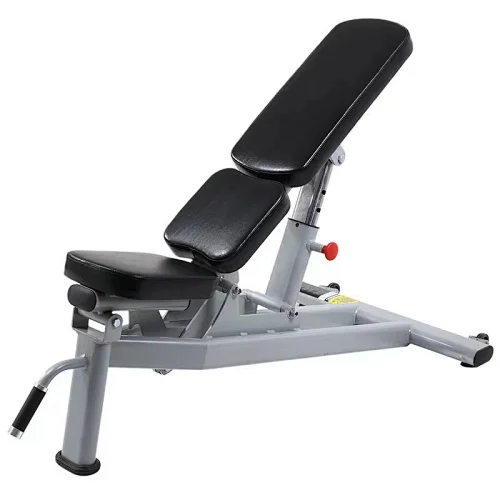 Adjustable Gym Bench
Union Max Fitness produces high-quality adjustable gym benches. If you need one, please get in touch with us.
Description of Adjustable Gym Bench
Professional shaping, gym-quality dumbbell bench, focusing on sports experience; one machine is multi-purpose, can perform a variety of sports (dumbbell bench press, dumbbell flying, etc.), exercise all muscles of the body; the backrest can be adjusted arbitrarily, both up and down, complete auxiliary facilities, non-slip feet, rollers, etc., to provide you with an extremely comfortable sports experience. Using high-quality steel pipe, the wall thickness can reach 2.0mm, which is safe and reliable and has a strong bearing capacity.
Product Features of Adjustable Gym Bench
1. Widened and thickened high-quality PU panel, wear-resistant, sweat-absorbing, soft and skin-friendly.
2. The cushion can be adjusted in multiple gears and angles to meet the exercise needs of different people.
3. The widened and thickened steel is used as the connecting rod of the main frame, and the stable triangular structure increases its stability.
4. High-strength load-bearing, up to 300kg or more, suitable for use in the gym, to meet the needs of people with multiple weights.
5. One machine with multiple functions to meet different exercise needs.
6. With rollers and handles at the bottom, it is portable and easy to store.
Specifications of Adjustable Gym Bench
| | |
| --- | --- |
| Product Name | Adjustable Gym Bench |
| Origin | China |
| Certifications | ISO 9001 |
| Brand | Union Max |
| MOQ | 1 piece |
| Packing | Cartons |
| Material | Steel |
| G.W | 37kg |
| Color | Black |
| Load Bearing | 300kg |
| Size | 1540*710*490mm |
| Tube Thickness | 2.0mm |
| Applicable | Home, Office, Gym |
| Usage | Fitness |