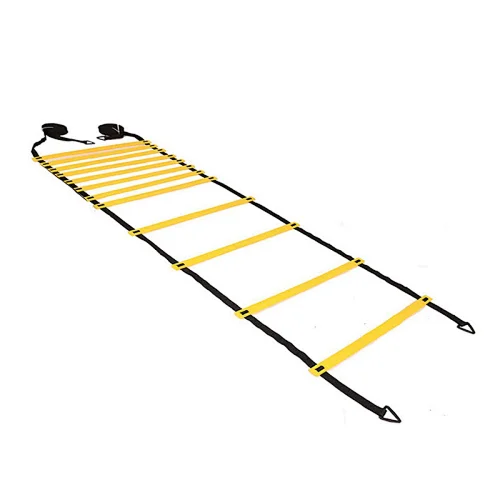 Agility Ladder
Union Max Fitness specializes in sports training products including the highest quality Agility Ladder. If you need this product, please feel free to contact us.
Description of Agility Ladder
The agility ladder is a training tool used by athletes and fitness enthusiasts to improve footwork, speed, agility and coordination. It usually consists of a flat surface made of durable material such as pp with adjustable crosspieces attached to it. The steps can be arranged at different distances depending on the desired training intensity and exercise goals. Agility ladders are often used for training in specific sports, such as football, basketball, rugby, and track and field, but can also be used for general conditioning and fitness.
Product Features of Agility Ladder
1. Made of environmentally friendly PP material, durable, non-fading, non-toxic and harmless, you can use it with confidence.
2. The spacing is adjustable, you can adjust the spacing according to your needs, and the connection is also convenient and quick.
3. Due to the superiority of the material, the product has good toughness and is not easy to break.
4. The agile ladder bag is presented as a gift, which is easy to store and carry.
Specifications of

Agility Ladder
| | |
| --- | --- |
| Product Name | Agility Ladder |
| Origin | China |
| Certifications | ISO 9001 |
| Brand | Union Max |
| MOQ | 100 pieces |
| Price | $1.24-6.19/piece |
| Packing | Carton |
| Material | PP |
| Length | 2-12m |
| Color | Orange/Yellow |
| Usage | Physical Training |