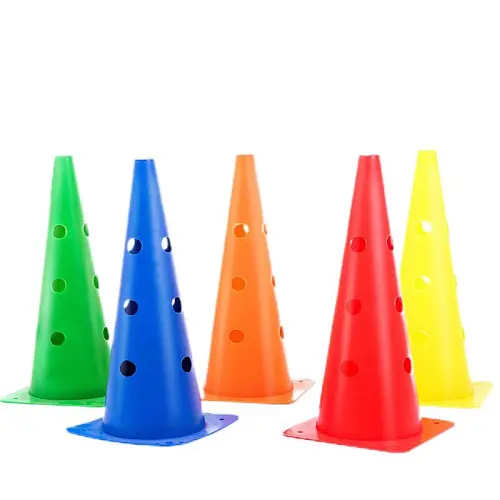 Agility Training Marker Cones with Holes
Agility Training Marker Cones with Holes-1
Union Max Fitness specializes in sports training products including the highest quality Agility Training Marker Cones with Holes. If you need this product, please feel free to contact us.
Description of Agility Training Marker Cones with Holes
These training cones are great for speed and agility training. Suitable for different indoor and outdoor sports and games, such as football, basketball, skating practice, etc. They can also be used as traffic cones and markers. Agility training marker cones with holes made of low density polyethylene is as durable as possible, lightweight and super flexible, allowing you to look new every time you train.
Product Features of Agility Training Marker Cones with Holes
1. The color is gorgeous and anti-ultraviolet, so that the trainees can see it more eye-catchingly under the condition of sun and rain.
2. New environmentally friendly materials with good toughness, extrusion resistance, resistance to stepping and falling, automatically deformed after being pressed, to avoid injury to users.
3. High-quality environmentally friendly PE material is selected, which is wear-resistant, frost-proof and crack-proof, fine workmanship, and can be used repeatedly.
Specifications of

Agility Training Marker Cones with Holes
| | |
| --- | --- |
| Product Name | Agility Training Marker Cones with Holes |
| Origin | China |
| Certifications | ISO 9001 |
| Brand | Union Max |
| MOQ | 300 pieces |
| Price | $0.74-2.27/piece |
| Packing | Carton |
| Material | PE |
| Size | 30cm/38cm/48cm/52cm |
| Color | Red/Green/Yellow/Blue/Orange |
| Usage | Physical Training |