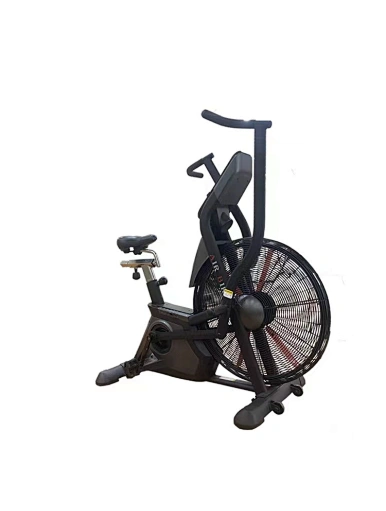 Air Resistance Bike
Wind Resistance Bicycle-1
If you are in need of an air bike, please contact Union Max Fitness for supply.
Description of Air Resistance Bike
Aerobic exercise is the simplest and most direct way to lose fat and is a must-have exercise option for athletes and fitness enthusiasts. The Air Resistance Bike employs unique wind drive technology to provide different kinetic energy conversion effects while delivering high-quality resistance output through high-performance drives, making exercisers more efficient and low maintenance cost. Furthermore, the strength of wind resistance is also very effective for exercising individual upper body strength and endurance. This equipment is built to the standards of commercial gyms, ensuring safety, stability, and high quality, providing you with a different exercise experience.
Product Features of Air Resistance Bike
1. This exercise bike is constructed with a thickened pipe, ensuring excellent quality and performance to meet the standards of commercial gyms, providing a gym experience from the comfort of home.
2. Its scientific and stable multi-triangular load-bearing structure, reinforced with fine steel pipes, is solid and stable, preventing sway and rollover for added safety.
3. The fan flywheel is designed to be efficient for fat burning and to give a different riding experience.
4. The pulley design at the bottom allows for unrestricted movement and added convenience. Women can move it easily and instantly start their workout anytime, anywhere.
5. The display, bottle cage, and other accessories make the exercise process a unique experience.
6. An adjustment bolt is included, suitable for people of any height, allowing for multi-directional adjustments and a variety of riding positions.
7. The non-slip cover at the bottom provides floor protection and increased safety during exercise.
Specifications of Air Resistance Bike
| | |
| --- | --- |
| Product Name | Air Resistance Bike |
| Origin | China |
| Certifications | ISO 9001 |
| Brand | Union Max |
| MOQ | 1 piece |
| Price | $266.48-380.95/set |
| Packing | cartons |
| Material | Steel |
| Size | 1250*550*1280mm |
| Color | Black |
| Load Bearing | 130kg |
| G.W | 45.5kg |
| Applicable | Home, Office, Gym |
| Usage | Fitness |