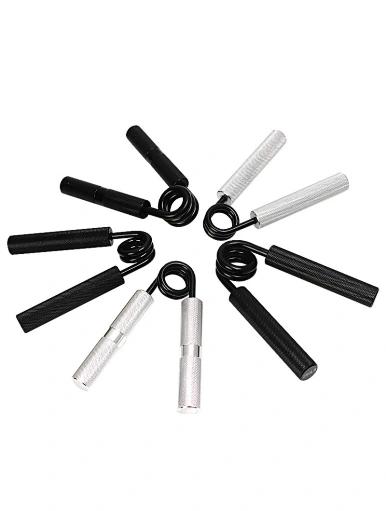 Aluminum Alloy Hand Grip
Aluminum Alloy Hand Grip-1
We have high-quality, cast-effective aluminum alloy hand grip products, if you need them, please contact us.
Desc

ription of
 Aluminum Alloy Hand Grip
Not just muscular guys, you can too! We have hand grips for sale, there are six strengths for you to choose from, you can do hand exercises in your free time, strengthen hand strength training, and it is a very practical fitness gadget at home or in the office.
Product Feature of
Aluminum Alloy Hand Grip
1. Grip strength 100/150/200/250/300/350lb optional, from entry to strengthening, to meet the use of different stages of training
2. Aluminum alloy solid handle
The surface of the steel hand gripper is knurled design, non-slip, and let go. After finishing and polishing, it will not hurt the hand. The first time a novice touches it, it will feel slightly painful.
3. High carbon steel spring
High carbon steel is suitable for products with strong toughness and is mostly used in automobile shock absorber springs. It has good elasticity, does not discolor, and is not easy to rust. Is the best hand strengthener.
4. Applicable to a wide range of people
It is suitable for office crowds and people who often play rock climbing, basketball, badminton, and table tennis, and those who need to exercise their wrist strength.
Specifications of
Aluminum Alloy Hand Grip
Product Name

Aluminum Alloy Hand Grip

Origin

China

Brand

Union Max

Certifications

ISO 9001

Material

Aluminum Alloy

MOQ

2

pcs

Price

$

2-2.5

/Piece

G

rip

100/150/200/250/300LB

W

eight

195g

Packing

Carton

Color

S

ilver

Usage

Arm Strength Training

Application

Home, Gym, Outdoors
G

rip

100LB

150LB

200LB

250LB

300LB

Price

2

2.3

2.3

2.5

2.5