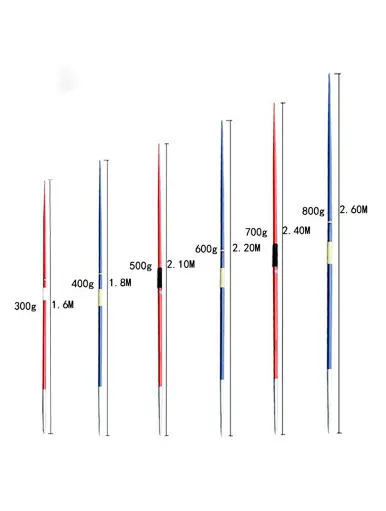 Aluminum Alloy Javelin
Union Max Fitness specializes in sports training products including the highest quality Aluminum Alloy Javelin. If you need this product, please feel free to contact us.
Description of

Aluminum Alloy Javelin
An aluminum alloy javelin is a type of sports equipment used in the track and field event of javelin throwing. It is made of a lightweight aluminum alloy material that is sturdy and durable. The javelin has a pointed end for piercing the ground upon impact, and a streamlined design to reduce air resistance when thrown.
Product Features of

Aluminum Alloy Javelin
1. The javelin head is crafted from aviation-grade aluminum alloy, which imparts excellent flexibility and toughness to the material.
2. A nylon rope wrap around the grip area of the javelin provides a firm and secure hold for the athlete, reducing the likelihood of slippage during throws.
3. The rounded tip of the javelin features a gradual taper from thick to thin, resulting in a well-proportioned and even design.
4. The smooth body of the javelin offers optimal sliding posture during throws, leading to better accuracy and distance.
Specifications of

Aluminum Alloy Javelin
| | |
| --- | --- |
| Product Name | Aluminum Alloy Javelin |
| Origin | China |
| Certifications | ISO 9001 |
| Brand | Union Max |
| MOQ | 200 pieces |
| Price | $5.78-63.97/piece |
| Packing | Carton |
| Material | Aluminum Alloy |
| Specification | Competition/Training |
| Weight | 300g/400g/500g/600g/700g/800g |
| Color | Red/Blue/Custom |
| Usage | Physical Training |