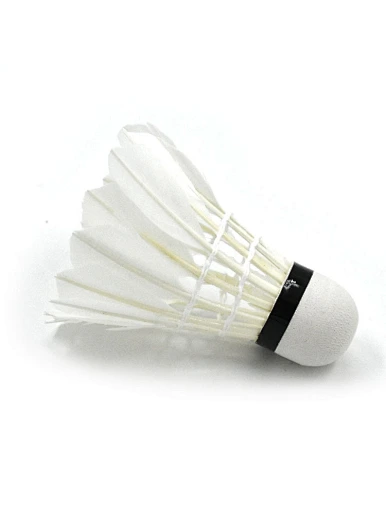 Badminton Ball
Union Max Fitness specializes in sports training products including the highest quality Badminton Ball. If you need this product, please feel free to contact us.
Description of Badminton Ball
Badminton ball (also known as birdies or shuttlecocks) are high resistance projectiles used in badminton. It has an open conical shape formed from feathers or plastic (or a synthetic alternative) embedded in a circular cork (or rubber) base. The shape of the shuttlecock makes it extremely stable aerodynamically. Regardless of the initial orientation, it will fly the cork first, and keep the cork-preferred orientation.
Product Features of Badminton Ball
1. The feathers are tight and orderly to ensure the durability and flight stability.
2. The hair shaft is thick, the glue layer is thick, the hardness is good and appropriate, and the coil density is high.
3. The middle rod is rich in spongy body, which absorbs moisture in the air and reduces the brittleness of the hair rod.
4. Using special glue, strong viscosity, dense coating, to ensure the toughness of the ball.
5. Selected pure white straight hair, wide and fine and neat, accurate landing point, stable flight.
Specifications of Badminton Ball
| | |
| --- | --- |
| Product Name | Badminton Ball |
| Origin | China |
| Certifications | ISO 9001 |
| Brand | Union Max |
| MOQ | 500 barrels |
| Price | $1.45-6.40/barrel |
| Packing | Carton |
| Material | Goose Feather/Duck Feather |
| Color | White/Black |
| Specification | 3/6/12 |
| Usage | Physical Training |