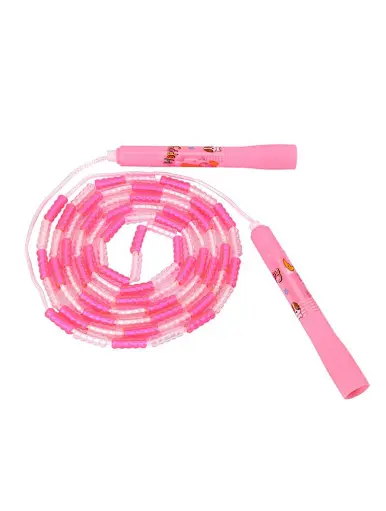 Bamboo Jump Rope
Union Max Fitness specializes in home workout products including the highest quality Bamboo Jump Rope. If you need this product, please feel free to contact us.
Description of 

Bamboo Jump Rope
Bamboojump rope, this is a jump rope that can be used by children, teenagers and adults. Jump rope can not only exercise the muscles of the whole body, thereby stimulating the growth of muscles to a certain extent, which will help to improve the basal metabolism and help us maintain a young body. Especially the colorful colors attract the interest of children and teenagers. Exercise starts with children, so that children can exercise healthily and grow up happily!
Product Feature of Bamboo Jump Rope
1. Made of high-quality PP material, using bamboo design, wear-resistant and anti-fall.
2. The corrugated non-slip handle, with a length of 15cm and a diameter of 2mm, adopts an ergonomic design, which is comfortable to hold and has no burrs.
3. The length can be adjusted freely, pull out from the tail, tie the knot, and then pull the rope core back to the handle.
4. Soft bamboo section rope design, low noise, good drape, using high-density braided rope core, durable, please use it with confidence.
5. This jump rope is available in many colors: pink, green, blue, orange
6. Suitable for daily activities, sports, exam training, etc.
Specifications of Bamboo Jump Rope
| | |
| --- | --- |
| Product Name | Bamboo Jump Rope |
| Origin | China |
| Brand | Union Max |
| Certifications | ISO 9001 |
| Material | PP, PVC, Polypropylene |
| MOQ | 2pcs |
| Price | $0.53-0.91/Piece |
| Length | 2.8m |
| Handle Length | 15cm |
| Rope Diameter | 8mm |
| Handle Diameter | 2cm |
| Color | Pink, Green, Blue, Orange |
| Packing | Carton, OPP bag |
| Usage | Lose Weight, Training, Entertainment |
| Application | Home, Gym, Outdoors |