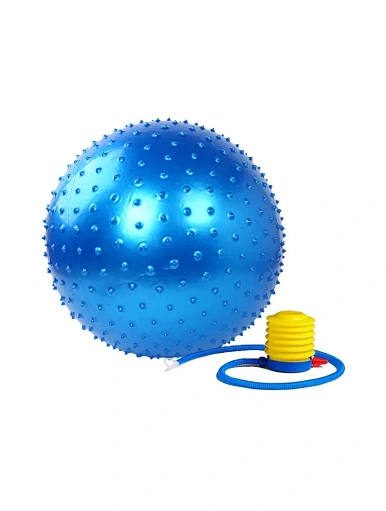 Barbed Yoga Ball
Union Max Fitness specializes in the manufacture of Yoga and Pilates products including the highest quality Barbed Yoga Ball. If you need this product, please feel free to contact us.
Description of Barbed Yoga Ball
The Barbed Yoga Ball is made of explosion-proof and non-slip PVC material, when the exercise ball is pierced by a sharp object, it will only let it deflate slowly instead of bursting. The surface of this yoga ball has massage pricks, which can stimulate muscles during exercise and achieve better results.
Barbed Yoga Ball Improves Balance, Strength & Fitness: Activate muscles all over your body with a yoga ball! By controlling the flexible exercise ball for training, you can stretch your body, improve your balance, and relieve the soreness caused by being sedentary, great for strengthening and toning muscles all over your body, and help improve balance, coordination, flexibility, and circulation, suitable for different sports styles.
Inflation method: pull out the air plug, and then insert the blown straw into the air inlet. Mouth blow or air pump. When the ball is full, quickly insert the air plug into the air inlet.
Specifications of Barbed Yoga Ball
Product Name

Barbed Yoga Ball

Origin

China

Certifications

ISO 9001

MOQ

20 piece

Customized MOQ

1000 piece/color

Brand

Union Max Fitness

Accessories

Air pump, air plug, air pull

Net weight

45CM=280g

55CM=700g

65CM=900g

75CM=1000g

85CM=1200g

95CM=1400g

110CM=2000g

Load bearing

200kg

Price

$1.55~9.29/piece

Color

Purple, White, Silver, Red, Pink, Blue, Green

Application

Indoor and outdoor exercise

Material

PVC

Usage

Yoga exercise and Pilates

Size(Diameter)

45CM,55CM,65CM,75CM,85CM,95CM,110CM

Packing Gauge

50*40*30CM

Custom Size & Logo & shape

Please contact us individually for customization