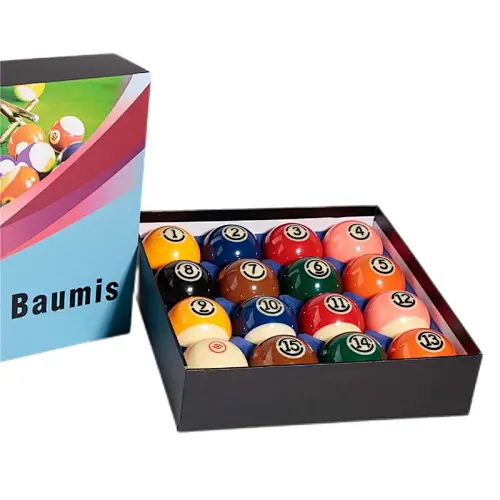 Billiards Ball
Union Max Fitness specializes in sports training products including the highest quality Billiards Ball. If you need this product, please feel free to contact us.
Description of Billiards Ball
Billiards, also known as billiards or billiards, is one of the four gentlemen's sports. Billiards does not require strenuous physical exercise. As a relaxed and pleasant way of active rest, there is no special requirement for people's physical fitness. No matter the strength or level, they can participate in it. It is not restricted by age and gender. The sports life is longer than other sports. project. It is really"one stroke in hand, benefit for life".
Product Features

 

of Billiards Ball
1. Clear writing, bright colors, wear-resistant and durable without fading.
2. Imported resin is used as raw material, unique production process, strong and durable, not only strengthens the sensitivity of the ball, but also improves the reaction speed after impact.
3. The unique surface treatment technology creates a smoother and tougher sphere, which is not easy to stick to powder and is easier to clean.
4. The unique polishing process endows the sphere with a longer period of brightening and is not easy to wear.
5. Adopt multiple quality indicators such as density, balance, and roundness to provide high-quality products.
6. Support customization.
Specifications of

Billiards Ball
| | |
| --- | --- |
| Product Name | Billiards Ball |
| Origin | China |
| Certifications | ISO 9001 |
| Brand | Union Max |
| MOQ | 300 sets |
| Price | $72.31-144.63/set |
| Packing | Carton |
| Material | Resin |
| Diameter | 57.2mm |
| Weight | 3kg |
| Usage | Physical Training |