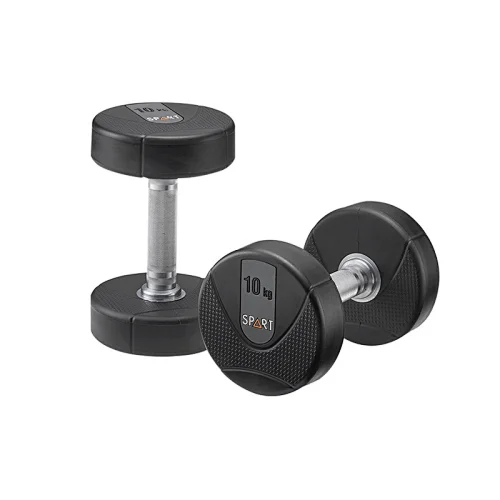 Black Steel CPU Dumbbell
price
US $8.45 / kilograms
Union Max Fitness specialize in manufacturing strength training products, including Black Steel CPU Dumbbell of the highest quality. If you require this product, please do not hesitate to reach out to us.
Description of 

Black Steel CPU Dumbbell with Round Ends
Compared to fitness machines like barbells, these CPU dumbbells require very little space, making them an excellent choice for anyone starting, and for advanced users looking to level up.
Product Features of 

Black Steel CPU Dumbbell with Round Ends
1.This black steel CPU round dumbbell is available in 21 sizes from 4kg to 8kg (in 1kg increments), and 2.5kg to 50kg (in 2.5kg increments).
2.The material of this product is high-quality steel and CPU ends.
3.The CPU Round Dumbbell features a heavy-duty CPU head to minimize noise, reduce floor damage, and reduce wear and tear on the dumbbells.
4.This dumbbell features an ergonomic handle with light knurling for improved grip when in use.
5.The high-quality CPU material is safe and non-toxic, without any irritating odor, and the CPU material is more wear-resistant and has a long service life.
6.This dumbbell helps users build bigger, stronger biceps, triceps, chest, and shoulders.
7.You can buy them individually, in pairs, or as a set, and you can mix and match any size to suit your needs.
8.Conventional carton packaging can also choose pallet packaging.
Specifications of

Black Steel CPU Dumbbell with Round Ends
| | |
| --- | --- |
| Product Name | Black Steel CPU Dumbbell with Round Ends |
| Origin | China |
| Certifications | ISO 9001 |
| MOQ | 500kg |
| Price | $8.45-15.15/kg |
| Packing | Carton |
| Usage | Build muscle |
| Application | Gym and your home |
| Type | Round |
| Material | Steel and CPU Coating |
| Size | 4kg to 8kg (in 1kg increments) and 2.5kg to 50kg (in 2.5kg increments) |
| Color | Black |