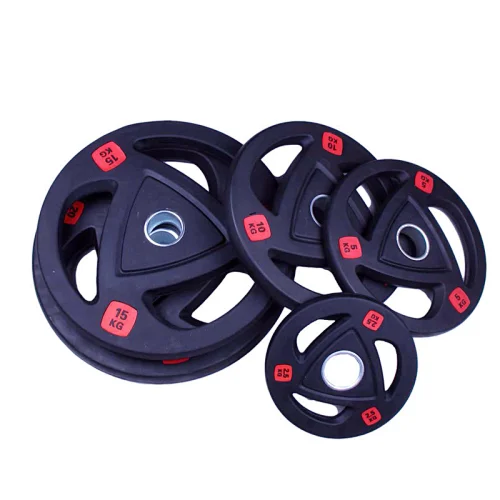 Black TPU Tri Grip Weight Plates
price
US $2.65 / kilograms
Tri Grip Weight Plates - 3
Union Max Fitness offers 10+ years of export experience forblack TPU tri-grip weight plates. Shop our selection of tri-grip weight plates for sale and get the best deals on premium-quality plates.
Description of Black TPU Tri Grip Weight Plates
If you're looking for a professional-looking plate to add to your home or commercial gym, the Black TPU Tri Grip Weight Plates are a great option. Constructed from high-quality cast iron, these plates are designed to last and offer reliable strength. The TPU coating provides a premium finish that's perfect for a variety of workouts, including bench presses, squats, and exercises with gym machines.
Product Features of Black TPU Tri Grip Weight Plates
1.The Black TPU Tri Grip Weight Plates are available in 5 sizes: 2.5kg, 5kg, 10kg, 15kg, and 20kg.
2.These plates are made of high-quality cast iron material for strength and durability, and have a premium TPU coating, making them perfect for bench presses, squats, and gym machine workouts.
3.Each plate comes equipped with 3 ergonomic grips located inside the rim, ensuring safe and easy handling during loading and unloading on the bar or storage rack.
4.A stainless steel 50.4mm rim on the plate accommodates standard-size Olympic bars and allows for easy sliding in and out of the bar.
5.The plates feature 3 highly visible red weight logos for easy identification and are suitable for use in both home and commercial gyms.
6.You have the option to buy these plates as a set, individually, or in pairs, giving you the freedom to mix and match any size according to your requirements.
7.The plates can be packaged conventionally in cartons or on pallets.
Specifications of Black TPU Tri Grip Weight Plates
| | |
| --- | --- |
| Product Name | Black TPU Tri Grip Weight Plates |
| Origin | China |
| Certifications | ISO 9001 |
| MOQ | 500kg |
| Price | $2.65-3.15/kg |
| Packing | Carton |
| Usage | Build muscle |
| Application | Gym and your home |
| Type | Tri Grip |
| Material | Cast Iron and TPU Coating |
| Color | Black |
| Sales model | Sold individually, in pairs or as a set. |
| | | | | | |
| --- | --- | --- | --- | --- | --- |
| Size | 2.5kg | 5kg | 10kg | 15kg | 20kg |
| Aperture | 50.4mm | 50.4mm | 50.4mm | 50.4mm | 50.4mm |
| Diameter | 225mm | 295mm | 330mm | 400mm | 430mm |
| Thickness | 25mm | 35mm | 45mm | 55mm | 60mm |