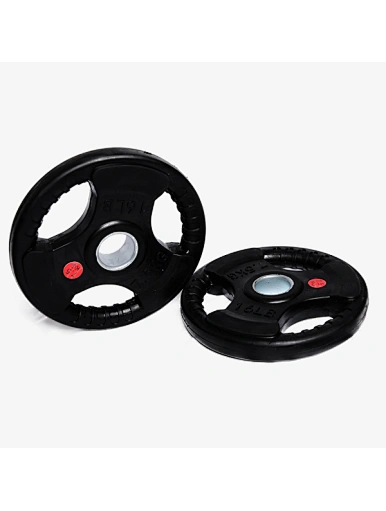 Black Tri Grip Olympic Weight Plate
Rubberized Barbell Plate-1
If you are in need of high quality Olympic Weight Plates, we are the manufacturer you are looking for. Our Black Tri Grip Olympic Weight Plates range from 2.5 kg to 25 kg, so you can find the perfect set to fit your strength training needs. Contact us today to get started.
Description of Black Tri Grip Olympic Weight Plate
The Black Tri Grip Olympic Weight Plates are made of iron and encased with a high-quality rubber coating. It has seven specifications: 2.5kg, 5kg, 7.5kg, 10kg, 15kg, 20kg, 25kg and the aperture is 50.4mm, making it suitable for use with a 50mm barbell rod. It features a three-grip design with a stainless steel ring which not only makes it easier to move around but also allows you to grab the handles to do exercises.
Specifications of Black Tri Grip Olympic Weight Plate
| | |
| --- | --- |
| Product Name | Black Tri Grip Olympic Weight Plate |
| Origin | China |
| Certifications | ISO 9001 |
| MOQ | 500kg |
| Price | $1.35-1.95/kg |
| Packing | Carton |
| Usage | Build muscle |
| Application | Garage gym and your home |
| Material | Iron and Rubber Coating |
| Sales model | Sold individually or in pairs |
| | | | | | | | |
| --- | --- | --- | --- | --- | --- | --- | --- |
| Size | 2.5kg | 5kg | 7.5kg | 10kg | 15kg | 20kg | 25kg |
| Color | Black | Black | Black | Black | Black | Black | Black |
| Aperture | 50.4mm | 50.4mm | 50.4mm | 50.4mm | 50.4mm | 50.4mm | 50.4mm |
| Diameter | 240mm | 280mm | 310mm | 340mm | 380mm | 410mm | 435mm |
| Thickness | 25mm | 34mm | 33mm | 40mm | 45mm | 48mm | 50mm |