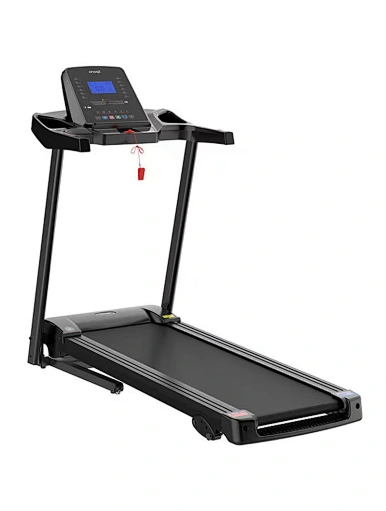 Bluetooth Treadmill
If you are looking for a high-quality Bluetooth treadmill, then contact Union Max Fitness. We offer a selection of treadmills for sale that meet the highest standards and provide the best in functionality.
Description of Bluetooth Treadmill
This foldable treadmill is highly durable and provides low-impact, basic performance that meets the user's needs. It has a streamlined display and integrated entertainment system, offering users a dynamic and efficient fitness experience. It can help users to lose weight and avoid the risk of injury due to transition between exercises. Regular exercise can also improve cardiopulmonary function and reduce the risk of various diseases.
Product Features of Bluetooth Treadmill
1. This treadmill features a 1220mm*420mm extended and widened running area for added comfort and safety.
2. Knee pads are designed to buffer the nerves of the foot joints to avoid damage; the zero gravity float is used for shock absorption, reducing noise and providing an elastic buffering for a shock-absorbing running experience.
3. The streamline design makes it a beautiful addition to any office, living room, or balcony.
4. It includes three-speed slope adjustment to increase exercise resistance and burn more fat. 5. Bluetooth function, hardware noise reduction, fidelity chip, seamless connection between mobile phone and treadmill are all included for entertainment while slimming down.
6. With a large stainless steel base and high-strength bearing, it is more stable.
7. Safe hydraulic folding makes it safer and space-saving.
8. Optional multi-function includes Bluetooth music, 10-inch color screen, and heart rate function.
Specifications of Bluetooth Treadmill
Product Name

Bluetooth Treadmill

Origin

China

Certifications

ISO 9001

Brand

Union Max

MOQ

10 sets

Price

$232.38-247.62/set

Packing

Cartons

Material

Steel

G.W

45.5kg

Color

Black

L

oad

B

earing

100kg

Belt size

1200*420mm

Size

1570*710*1245mm

Speed

1-14km/h

Power

2.5HP

Applicable

Running, Fitness

For People

Fitness enthusiasts, keepers, fitness trainers