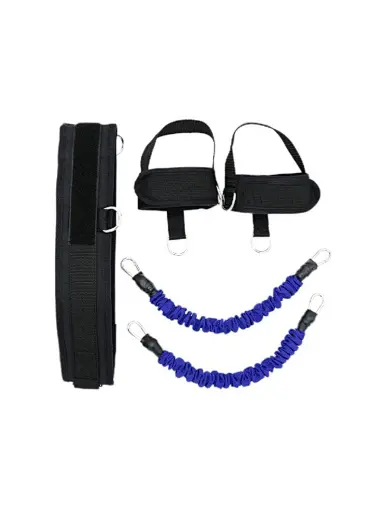 Bounce Trainer
Union Max Fitness specialize in home workout including Bounce Trainer of the highest quality. If you require this product, please do not hesitate to reach out to us.
Description of Bounce Trainer
Bounce trainer is very suitable for basketball, volleyball, football, tennis, running and other training, exercise buttocks, calves, abdomen or quads strength, increase vertical bounce, improve leg strength, explosive power, flexibility, balance and endurance.
The natural latex material is highly elastic, and there are many choices of resistance value. It can be stretched more than 10,000 times, and it is not easy to deform after long-term use. Padded ankle straps make movement more comfortable. The exterior is wrapped in a nylon material that adds to the feel and also serves to protect the athlete and the latex tubing.
Product Features of Bounce Trainer
1. Wrapped in a woven protective sleeve, it is safer and safer to use.
2. Upgrade to increase the sole of the foot, fix the webbing, prevent falling off, and improve safety.
3. Non-toxic and tasteless, made of high-elastic and environmentally friendly natural latex, with an outer diameter of 10mm and a wall thickness of 3mm, which is more durable.
4. Safe and anti-break design, strong imitation nylon structure, safer to use.
5. The belt is thickened with sponge pad, which is durable and more comfortable.
6.Set contents: 2 latex tubes, 1 adjustable waist belt, 2 ankle straps, 1 storage bag
Specifications of

Bounce Trainer
| | |
| --- | --- |
| Product Name | Bounce Trainer |
| Origin | China |
| Certifications | ISO 9001 |
| Brand | Union Max |
| MOQ | 100 sets |
| Packing | Cartons |
| Material | Latex + Nylon |
| Strength | 20 lbs |
| Weight | 0.46kg |
| Color | Red/Yellow/Blue/Green/Black |
| Usage | Arm Muscle, Abdominal Muscle Training, Fitness Body |