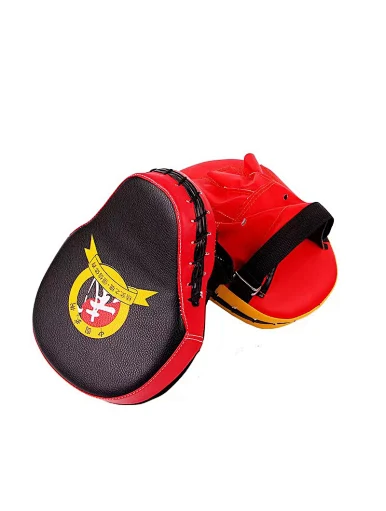 Boxing Hand Target Pad
Boxing Hand Target Pad -1
We can provide high-quality boxing hand target pad, if you need them, you can contact us.
Description of Boxing Hand Target Pad 
Boxing pads focus mitts is an indispensable and important tool in the conventional training methods to exercise the accuracy, coherence and coordination of boxing. The coach wears the boxing pads hand target on his hand as the target of hitting. Boxing hand target training can be used for both attacking and Practice defense. Boxing hand target training is the soul of boxing. On the one hand, it is because Boxing hand target training is an indispensable and irreplaceable link in professional boxing training. At the same time, Boxing hand target training is not limited by venues, and the training methods are flexible and diverse, close to actual combat, which is conducive to improving and strengthen practical awareness.
Product Features of Boxing Hand Target Pad 
1.High-quality PU leather, one-time molding foam liner, strong and durable, moderate thickness, good toughness and tear resistance.
2.Wearable structure, convenient and comfortable, not loose, the product structure conforms to ergonomic design.
3.Continuous impact without deformation, good buffering effect.
4.The appearance is smooth and flat, the surface has no scratches and cracks, the body is full and correct, and the arc is even.
5.With air holes on the back of the hand, it is light and breathable without sweating.
Specifications of Boxing Hand Target Pad
| | |
| --- | --- |
| Product Name | Boxing Hand Target Pad  |
| Origin | China |
| Certifications | ISO 9001 |
| Brand | Union Max |
| MOQ | 50 pieces |
| Price | $2.86-6.10/piece |
| Packing | Cartons |
| Material | PU |
| Color | Blue, Red or Black |
| Usage | Boxing Training |