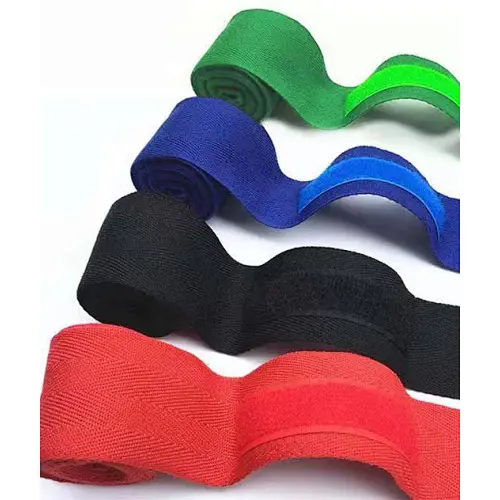 Boxing Hand Wraps
Union Max Fitness specializes in manufacturing boxing training products including the highest quality boxing hand wraps. If you need this product, please feel free to contact us.
Description of Boxing Hand Wraps
Boxing hand wraps are one of the most important equipment in boxing matches. They are generally 5 cm wide and about 4 meters long. They can be customized. One end is a rope loop and the other end is a Velcro. It is used to protect the wrist and joints, and at the same time, it can provide auxiliary power to the fist during the training process, and make the fist clench on the basis of not blocking the blood circulation.
Product Features of Boxing Hand Wraps
1.Cotton material, soft texture, strong skin-friendly, strong sweat absorption, firm and durable.
2.The high magnetic hook and loop secures the boxing bandage to the wrist and protects the hand joints.
3.The use of environmentally friendly printing and dyeing yarns and then weaving mode greatly reduces the phenomenon of fading, and the colors are diversified to meet individual needs.
4.Wrist buckle design, more firm and firm to wear, not easy to loose and fall.
5.A variety of colors/specifications are available, and customization is acceptable.
How to use Boxing Hand Wraps
1. Begin by placing the circular end of the hand strap onto your thumb. Next, wrap the strap around your wrist three to four times.
2. Bring the strap towards your cheekbones and wrap it around them three to four times.
3. Make sure to secure your knuckles tightly with the hand strap. Once you've done so, wrap the strap around your wrist until it reaches the tiger's mouth position.
4. After reaching the tiger's mouth position, wrap the remaining boxing bandage around your wrist, ensuring that it is snug.
Specifications of Boxing Hand Wraps
| | |
| --- | --- |
| Product Name | Boxing Hand Wraps |
| Origin | China |
| Certifications | ISO 9001 |
| Brand | Union Max |
| MOQ | 500 pieces |
| Price | $0.95-4.76/piece |
| Packing | Carton or Woven Bag |
| Material | Cotton |
| Color | Multiple Colour |
| Size | 3M/4M/5M |
| Thickness | 5cm |
| Usage | Boxing Training |