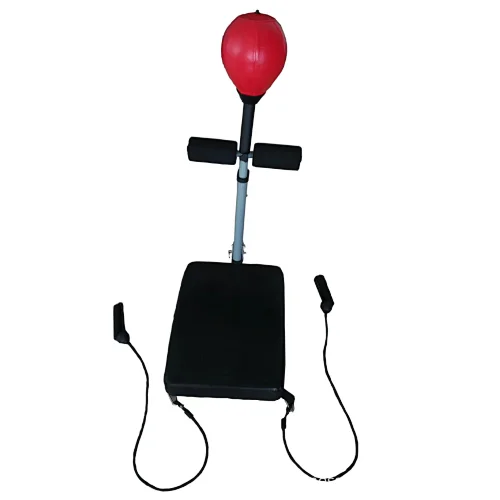 Boxing Knock Out Abs
Union Max Fitness specializes in boxing training products including the highest quality Knock Out Abs. If you need this product, please feel free to contact us.
Description of Knock Out Abs
The Boxing Abs is a home fitness machine that provides you with a full body workout, combining cardio and core training for maximum results in a short amount of time. The fully adjustable seat and bars support your knees to help you with every move. This boxing abs comes with resistance bands and a DVD detailing every possible move that the boxing abs can work out, and the content can be customized according to the client's requirements.
Product Features of Knock Out Abs
1.PVC seat cushion + plastic sprayed steel pipe + PU balloon + iron tube sleeve foam handle, soft and comfortable, safe and reliable.
2.After ergonomic and mechanical structure design, streamlined appearance design, beautiful and easy to use.
3.The product is designed according to the fat burning characteristics of the human body. After easy exercise for more than 20 minutes, it can achieve the purpose of fat burning and easy body sculpting.
4.This small abdominal fitness device is more suitable for family use, regardless of gender, age, and age; the product is small in size, light in weight, does not take up space, is easy to carry and collect, and can be used at home and abroad. No skills required to experience fast, easy to get started.
5.The size of the product is 51*34*80cm, there are errors in manual measurement, and the actual product shall prevail.
Specifications of Knock Out Abs
| | |
| --- | --- |
| Product Name | Knock Out Abs |
| Origin | China |
| Certifications | ISO 9001 |
| Brand | Union Max |
| MOQ | 500 pieces |
| Price | $21.00-22.70/piece |
| Packing | cartons |
| Material | Steel Pipe |
| Color | Black and Red |
| LoadBearing | 150kg |
| Size | 51*34*80cm |
| Applicable | Home, Office, Gym |