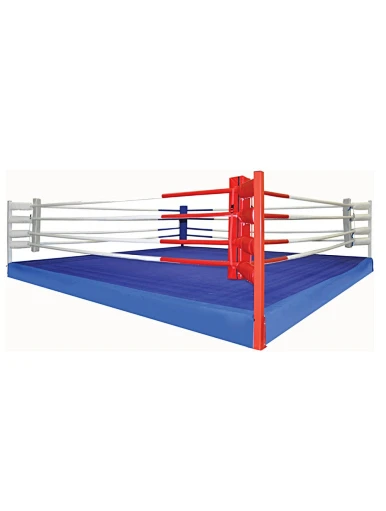 Boxing Ring
Union Max Fitness specializes in boxing training products including the highest quality Boxing Ring. If you need this product, please feel free to contact us.
Description of 

Boxing Ring
A boxing ring is a quadrangular platform surrounded by ropes used for the sport of boxing. Typically, a ring-shaped platform is raised from the ground and ropes are fastened around posts spaced equally around the platform. The ropes are drawn taut to create a boundary and provide security for the fighters by keeping them inside the ring during the match. The ring platform is usually square in shape, and at each corner of the ring, there is a corner post that supports the rope and provides anchor points for the turnbuckles that adjust the tension of the rope. It is the central venue for boxing matches. It provides fighters with a controlled playing environment, with safety measures in place to prevent them from falling out of the ring during the heat of the match.
Product Features of Boxing Ring
1. Four uprights, the height is determined according to the size of the boxing ring, the inner wall thickness is nearly 5mm, strong tensile strength, no deformation.
2. The outer layer of the surrounding rope is high-quality PU, the inner layer is EVA foam casing, and the inner core is 1cm steel rope, which is strong and durable.
3. The backrest is made of high-quality PU leather, and the inner polyurethane sponge is soft and comfortable.
4. The base is made of steel frame bolts, and the table is made of synthetic wood boards with environmentally friendly EVA mats, which have high density and moderate elasticity.
Specifications of Boxing Ring
| | |
| --- | --- |
| Product Name | Boxing Ring |
| Origin | China |
| Certifications | ISO 9001 |
| Brand | Union Max |
| MOQ | 1 sets |
| Price | $1341.27-6190.48/set |
| Packing | Bubble Wrap |
| Material | PU+EVA+Steel |
| Color | Custom/Red/Blue |
| Size | 4*4/5*5/6*6/7*7/8*8m |
| Usage | Boxing Training |