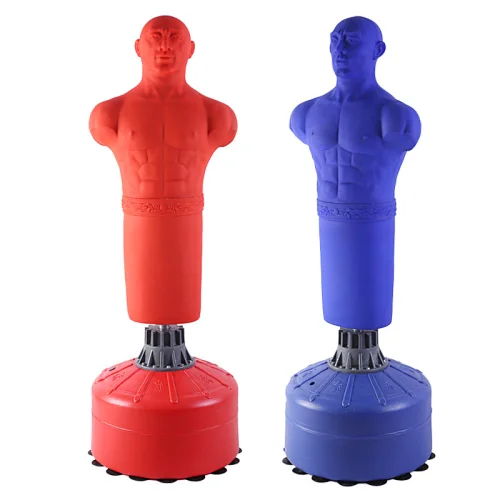 Boxing Silicone Dummy
price
US $196.03 / pieces
Union Max Fitness specializes in boxing training products including the highest quality Boxing Silicone Dummy. If you need this product, please feel free to contact us.
Description of Boxing Silicone Dummy
The boxing silicone dummy has a highly realistic appearance and texture, making it easier for practitioners to simulate real boxing scenes. Provides a hard hitting surface that simulates the impact of a real boxing match. They can help improve boxing technique and overall physical fitness, including strength, speed, coordination and reaction time. By interacting with boxing dummies, practitioners can also increase their self-confidence, which is vital to their performance in a real boxing match. In addition to boxing training, boxing dummy can also be used for other physical training, such as physical training, batting practice, etc.
Product Features of Boxing Silicone Dummy
1.The surface material of this product features a lifelike skin texture, providing a unique sensation for users. Its high elasticity ensures durability while preventing any hand injuries, and it quickly rebounds after being struck to avoid deformation.
2.The diamond-shaped architecture enhances the overall stability of this product, making it more durable and reliable.
3.Equipped with a barrel structure and 16 high-quality suction cups, this product can be used on various terrains while also protecting your floors.
4.The human-like design of this product emphasizes practicality, making it perfect for combat training.
5.The three-dimensional cyclic cushioning system is equipped with invisible springs to ensure a noiseless operation, providing a comfortable training experience.
Specifications of

Boxing Silicone Dummy
| | |
| --- | --- |
| Product Name | Boxing Silicone Dummy |
| Origin | China |
| Certifications | ISO 9001 |
| Brand | Union Max |
| MOQ | 20 pieces |
| Price | $196.03-247.62/piece |
| Packing | cartons |
| BaseMaterial | Polyethylene |
| Color | Red and Blue |
| Size | 170cm |
| Usage | Boxing Training |