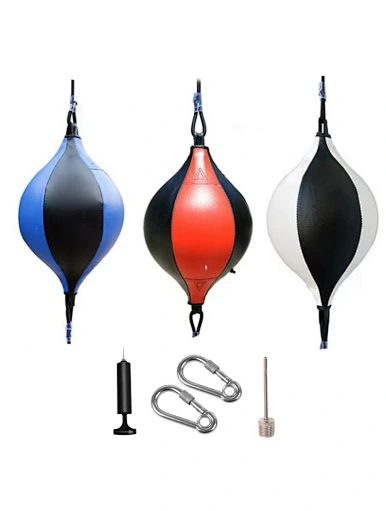 Boxing Speed Ball
We can provide a high-quality boxing speed ball, if you need it, you can contact us.
Description of Boxing Speed Ball
Speed punching ball is the easiest and easiest fitness exercise to learn. Long-term practice can exercise people's sensitivity and quick reaction ability, and can also increase muscle elasticity and overall body coordination. It can also play a role in venting and regulating emotions in the spirit.
Product Features of Boxing Speed Ball
1.High-quality PU, good color, good elasticity, soft leather, strong and durable.
2.The two ends of the speed and double end bags are made of double-layered slings, together with reinforced elastic ropes, which can firmly tie the sphere to the shelf for full play.
3.The two ends of the speed and double end bags are precisely regulated and the car line is finely sewn, which is not easy to break, and the triangular line is more firm, which effectively improves the pulling force and makes the life longer.
4.It is more convenient to inflate, avoid air leakage, the inflation is full and elastic, and the use effect is better. Comes with pump, gas needle and safety buckle.
5.Bold and high elastic drawstring, strong extensibility, high elasticity, can be stretched to about 220cm, not easy to break, the drawstring interface is covered with a hose, beautiful and practical. Double insurance.
6.The total length is 180cm, and the diameter of the ball is 20cm. It is measured manually. There are errors in the data. The actual product shall prevail.
Specifications of Boxing Speed Ball
Product Name

Boxing Speed Ball

Origin

China

Certifications

ISO 9001

Brand

Union Max

MOQ

10 pieces

Price

$3.43-4.95/piece

Packing

More than 100 cartons

Material

PU

Color

Black, Red and White mix

Size

180-220cm

Applicable

Martial arts, Clubs and Boxing Gyms

U

sage

Boxing Training